Microsoft Black Friday 2017: Xbox One, Laptops And More Discounts Announced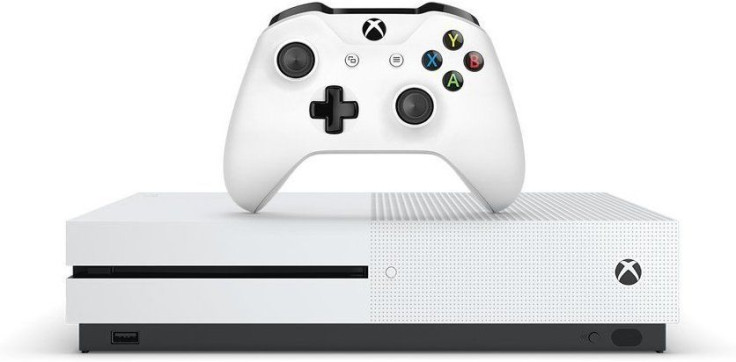 A week ago, Microsoft released the Xbox One X. The so-called "most powerful console of all time" can enhance your Xbox library with crystal-clear 4K visuals and jacked up performance ratings. Assassin's Creed: Origins has never looked so good... unless you have a good gaming PC. For those looking to Black Friday 2017 as a way to get a deal on the Xbox One X, we've got some bad news. Microsoft announced its Black Friday deals for 2017 and, as you might expect, the brand new Xbox upgrade is not on discount.
That said, there are some pretty sweet deals on other Xbox One models, tablets and laptops on this list. If you absolutely need to play those sweet Xbox exclusives like Forza Motorsport 7 or get a new Windows machine, Microsoft's Black Friday 2017 has you covered.
First up are the discounts on the Xbox One S, the cheaper, less powerful alternative to the Xbox One X whose name is sure to confuse some parents while shopping for gifts over the next month. Starting on midnight EST on Nov. 23, you can grab an Xbox One S 500GB with one free game for just $189. It is still a capable gaming machine for that price, and it has just about every sports and entertainment streaming service you would ever need. It can play the newest Call of Duty and Madden and let you keep up with your favorite shows for less than $200.
If you choose to hop on the Xbox One train during Black Friday, Microsoft is also temporarily discounting its Xbox Game Pass service to just $1. In case you didn't know, Game Pass is a monthly, Netflix-like service that lets you play a selection of 100 Xbox One and Xbox 360 games that's usually $10 per month.
At the same time, you can grab a 15-inch HP laptop with an Intel Core i3 processor, 8GB of Ram and 1TB of storage for just $300. If those numbers mean nothing to you, ask anyone who has shopped for a laptop on a budget before and the will tell you that is a sweet deal. Getting $500 worth of specs for $300 is well worth it if you need a good all-purpose machine. If you have an extra $60 burning a hole in your pocket, you can upgrade it to the same laptop with a better processor and twice as much storage for $360.
If you think right now is the best time to get in on the virtual/augmented reality craze, Microsoft has a couple of deals for you. Starting on Nov. 19, you can pick up Windows mixed reality headsets bundled with motion controllers for up to $100 off. Only you know if you want to jump in on that tech now, but if you do, this is one of the cheaper ways to do it.
Of course, Microsoft is also offering deals on plenty of other things during Black Friday 2017. Games, Xbox controllers and other accessories will be discounted on the Microsoft store, so keep an eye out for anything that interests you.
© Copyright IBTimes 2023. All rights reserved.