Microsoft Surface Pro Release Approaches: Tablet Comes With Less Storage Space Than You Think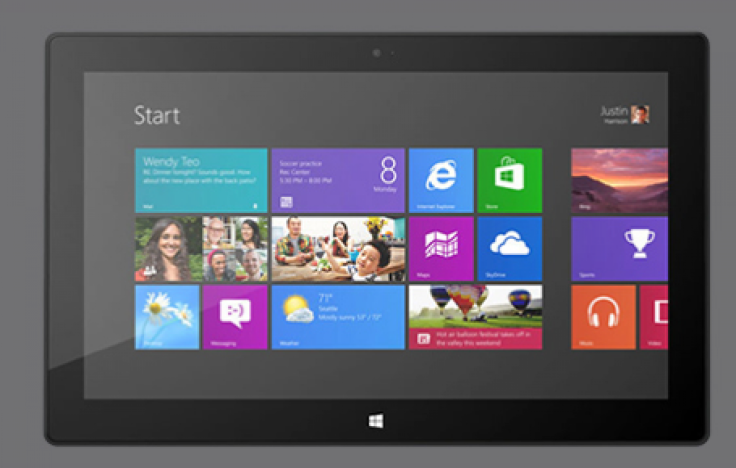 Microsoft's Surface Pro tablet, which comes out Feb. 9, has been flaunted as a work-centric laptop-tablet hybrid, complete with a whopping 128GB of storage to back that up. Or is it?
The company said in a statement on Monday that the tablet will actually only have 83GB up for grabs to store user's files.
In a statement issued to tech website Softpedia, Microsoft admitted its Windows 8 operating system and native software occupy a sizeable 45GB worth of storage. This is still nearly 20 more gigabytes of storage than the average tablet, which usually tops out at 64GB but is certainly a discrepancy worth noting. This represents a drop of 35 percent in terms of storage space compared to the advertised amount.
Microsoft does, however, provide other avenues for file storage. The Surface Pro comes with a USB 3.0 port for connection to external storage devices and also features SkyDrive support for an additional 7GB of free space. But what's more concerning is that if these same figures apply to Microsoft's 64GB variant of the Surface Pro, that means users are only getting an alarming 19GB of available storage. Essentially, Windows 8 is occupying 45 of the 64 gigabytes users will pay for with the entry-level Surface Pro.
This isn't the first time Microsoft has admitted to a Surface Pro shortcoming. Back in November, a Twitter user asked Panos Panay, Microsoft Surface's general manager, what customers can expect from the forthcoming higher-end tablet. In response to a question about battery life, the official Surface Twitter account responded with the following:
"Hey Shahroom, #Surface pro will have approximately half the battery life of the Surface RT."
In addition, Panay confirmed the news via Twitter through his personal account when user Chris Mehnert asked about the battery life difference between the Surface Pro and RT models.
"Hey Chris, to answer your question, #Surface Pro will have approximately half the battery life of the Surface RT," Panay tweeted.
The previous Surface tablet, which runs on the watered-down mobile centric version of Windows 8 known as Windows RT, claims eight hours of battery life. In theory, this means that the Surface Pro's battery is likely to last for about four hours -- a seemingly low battery life for a device with heftier hardware aimed at business professionals.
While Microsoft is preparing to launch its successor to the Surface for Windows RT, the PC software maker has yet to reveal any sales numbers for its first self-branded tablet. During the company's quarterly earnings conference call with analysts, Microsoft's CFO Peter Klein refused to specify any figures.
"During the quarter, we launched the first device in our Surface family of products," Klein said, according to a transcript of the conference call. "We recently increased production and expanded distribution to third-party retail partners. With the broadening of the Surface lineup, we will continue to highlight the power of Windows 8 tightly integrated with fantastic hardware."
Analysts have offered insight as to how many Surface for Windows RT units were sold last quarter, but these numbers have not been officially confirmed. In November, brokerage firm Detwiler Denton predicted Microsoft would only push out between 500,000 and 600,000 tablets in Q4 2012. A more recent estimate by Rhoda Alexander of IHS iSuppli doubled this number, telling CNET that Microsoft could sell more than 1 million tablets in the December quarter. Despite this increased estimate, these numbers still pale in comparison to sales of Apple's iPad, which sold 22.9 million units in the quarter ended Dec. 29, 2012.
© Copyright IBTimes 2023. All rights reserved.