'Middle-earth: Shadow Of Mordor' Developers Brush Off 'Assassin's Creed' Comparisons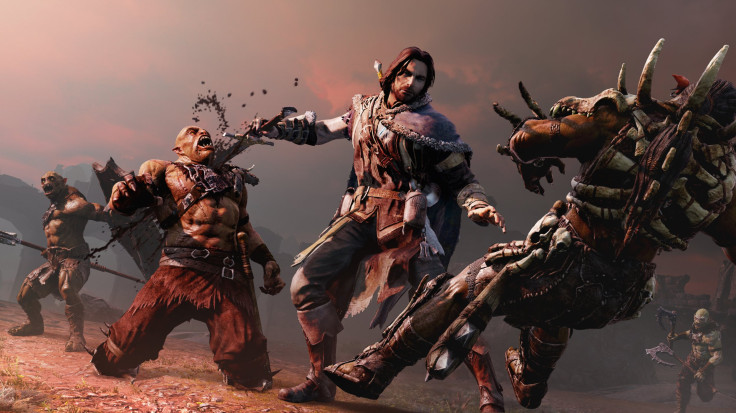 When game developer Monolith launched a "Middle-Earth: Shadow of Mordor" trailer in January, a number of players and gaming sites thought the title shared some striking similarities to the "Assassin's Creed" series, from the combat system to the movements of the characters. The franchise is one of the most popular gaming series of all time, with more than 73 million games sold as of April this year.
Though the "Lord of the Rings"-based game was far from finished, many viewers took note of the likeness, and one former Ubisoft employee accused Monolith Productions of incorporating assets and code from historical adventure game franchise "Assassin's Creed" into "Middle-Earth: Shadow of Mordor" gameplay.
Charles Randall, a former Ubisoft developer, was involved in creating the air assassination move in 2007's original "Assassin's Creed" and the combat system in "Assassin's Creed II." Randall took to Twitter to express what he felt was a direct ripoff of his in-game code. A number of fans and gaming media outlets also drew the same comparison.
"Middle-earth: Shadow of Mordor" developers weren't afraid of accusations that their game ripped off prior "Assassin's Creed" titles. They said the quality of gameplay would speak for itself once players were able to experience it firsthand.
Monolith's lead designer Bob Roberts addressed the claims in an interview with IGN on Wednesday.
"I don't know if vindicated is the right word, because we always knew what it feels like to play," Roberts told the site. "Once people get their hands on it, they stop worrying about the comparisons and it totally feels like its own thing. So we never really got that criticism once people had a chance to play it. As soon as we started showing it, it became clear we had nothing to worry about."
Warner Bros. subsidiary Monolith released the "Lord of the Rings"-based action role-playing game "Middle Earth: Shadow of Mordor" on Tuesday. The well-received title, which is currently available for the PlayStation 4, PC and Xbox One, will launch on Nov. 18 for seventh-generation consoles Xbox 360 and PlayStation 3. "Shadow of Mordor" takes place between the events of "The Hobbit" and "The Lord of the Rings" saga.
One of "Shadow of Mordor's" prominent features is the Nemesis system, which allows enemies, the Orcs, to ascend in power and ability once they defeat players.
Roberts felt that this particular feature set the game apart from comparable titles.
"The Nemesis System is the backbone of our idea and was from the start," Roberts said. "Obviously, though, it's so big and there's so much content tied into it, that once you've done all the animations, voiceovers and tuned the fights and so on, it takes a huge amount of time over a number of years."
The realm of video games is only getting more saturated, and it isn't surprising that certain games of the same genre can sometimes overlap, share similarities and look like one another. How can developers avoid creating games that are just a bit too much like past ones?
"There have been allegations that certain games are just clones of others. Some of these have gone to court while others just hashed it out in the industry press," attorney Sean F. Kane, a partner in the Interactive Entertainment Group at New York law firm Frankfurt Kurnit, told IBTimes. Kane is also a founding member of the Video Game Bar Association. "Modern video games are protected by copyright and other intellectual property rights," he added.
In the past, this meant that the copyright protected the expression of the idea "but not the idea itself." If actual visual elements or in-game code were not directly copied, infringement most likely didn't exist.
"Merely having two games that might have similar playability features (independently developed) would not be enough to provide infringement," Kane added. "However, as the nature and features of games has progressed over the years, the courts have taken a somewhat wider approach. In certain recent cases the court looked at the features which have been included and found that infringement can exist on this basis alone."
This can be a tricky statute to navigate, and there may not be a guaranteed way to avoid infringement as a game developer, except creating a quality product that can stand on its own.
"We've worked on so many ideas and tried so many things that did or didn't work over the years we've been on the project that a lot of the conceptual work is there, but at the end of the day it's just an incredible amount of content, thought and detail that has to go into it in order to bring the game to life," Roberts added.
FOR FREE to continue reading
✔️ Unlock the full content of International Business Times UK for free
offer available for a limited time only
✔️ Easily manage your Newsletters subscriptions and save your favourite articles
✔️ No payment method required
Already have an account?
Log in
© Copyright IBTimes 2023. All rights reserved.