Migrant Crisis In Texas: Thousands Massed Under Border Bridge As Law Enforcement Facilities Overwhelmed
KEY POINTS
The international bridge is being used as a temporary staging area to provide migrants protection from the heat
Migrants have been provided with drinking water, towels and portable toilet at the Del Rio site
Large number of single adults and families are expected to be expelled under CDC's Title 42, designed to prevent the spread of Covid-19
Thousands of migrants who crossed the southern U.S. border are now flocking under an international bridge in Del Rio, Texas.
A staggering number of over 6,000 undocumented immigrants were seen waiting for transportation from the Border Patrol.
"The City of Del Rio is aware of the escalated situation under the Del Rio International Bridge with the growing influx of migrants in Del Rio over the last couple of days," said Del Rio mayor Bruno J. Lozano. People started gathering under the bridge on Monday after 2,200 people showed up, reported KSAT. The number of migrants joining the flock continues to grow. On Wednesday, 3:30 p.m., the migrants' number stood at 5,600.
The migrants from countries includng disaster-struck Haiti are waiting for detention as they can only seek asylum after giving themselves up at the border before their cases are scheduled in court.
According to the U.S. Customs and Border Protection, the bridge is serving as a temporary staging site to protect migrants from the heat while they wait to be taken into Border Patrol custody. The migrants have been provided with drinking water, towels and portable toilets, said CBP.
Lozano applauded the Border Patrol's effort, who said it will increase the number of agents at the Del Rio border to tackle the crisis.
"We're in unprecedented times, and I did relay this message back in February to the administration, and I'm still waiting for the plan of action, " said Lozano, reported the outlet.
Most single adults and any families will be expelled from the country under CDC's Title 42, designed to stop the spread of coronavirus, said Border Patrol officials. "Those who cannot be expelled under Title 42 and do not have a legal basis to remain will be placed in expedited removal proceedings, " added the CBP in a statement, reported WOAI.
The CBP further added, "Persons taken into Border Patrol custody for immigration processing are evaluated on a case-by-case basis for custodial determinations. U.S. legal requirements, COVID-19 protocols, holding capacity, and the health conditions of the persons in custody are all factors that affect such determinations."
According to data released by the CBP on Wednesday, authorities detained 208,887 migrants in August. The August figure was only 2% lower than July, which was 212,672, a 21-year high. In August, 18,847 teens and children crossed the border alone.
Under the Biden Administration, many migrants have been rapidly expelled without being held in custody using Title 42. This has resulted in higher levels of repeat crossing attempts by migrants. In August, 25 percent of the migrants taken into U.S. custody "had at least one prior encounter in the previous 12 months," said the CPB, reported Washington Post.
"This is beyond crisis. This is urgent. This is dire, " said Lozano, reported KSAT. More migrants are expected to arrive at Del Rio.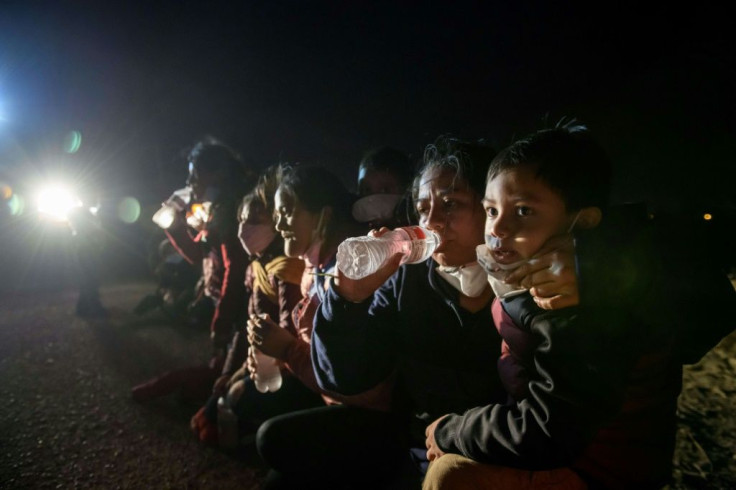 © Copyright IBTimes 2022. All rights reserved.
FOLLOW MORE IBT NEWS ON THE BELOW CHANNELS