'Minecraft' Nintendo Switch Screenshot Bug Fix Coming Soon, 4J Studios Says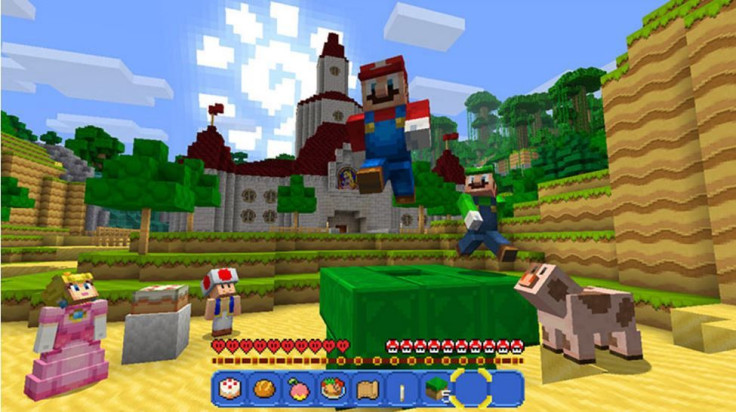 Minecraft: Nintendo Switch Edition released last Thursday, and users immediately noticed a rather odd bug. As cataloged by several reddit threads, a glitch was causing the Switch console to take screenshots at random times. A tweet from the game's developers at 4J Studios, however, said a fix is coming soon.
"Nintendo has found the issue causing false Home and Screenshot button presses," the message said. It added a "bug fix [is] coming soon." Later tweets suggested the forthcoming patch will address description clarity with regard to DLC skins as well.
Read: Minecraft Switch Worlds Are Way Smaller Than PS4, Xbox One
For those who missed the initial Minecraft Switch error reports, the above-mentioned screenshot bug remains a troublesome one. As described in the tweet, it makes the user's Nintendo Switch console take screenshots at random. That may not sound too bad on the surface, but, once activated, the bug makes the screenshot sound, can wake the unit from sleep and even impacts games outside Minecraft. In some ways the glitch is an unintentionally made virus that impacts the entire system. The bug was first noticed when the game was streamed in April, and it was never patched before release.
As if that story alone isn't odd enough, the fact that 4J needed Nintendo's help to address the problem is a pretty strange admission. In fact, it fuels recent speculation that Tuesday's Nintendo Switch 2.3 stability software update may have been required to get the problem sorted out. Now that the shortcoming has been handled on the operating system side, it's possible 4J needs to do a little cleanup with its software. Once that's been finished, we expect the experience to operate normally.
Aside from the bug, Minecraft: Nintendo Switch Edition has been received well by fans and critics alike. It currently has a Metacritic score of 85 based on nine critical reviews, and its day-one build only suffers from minor framerate hiccups beyond the screenshot glitch. Despite maximum world size being substantially smaller than its PS4 and Xbox One counterparts, the port's flexibility of being able to work with the same content on the go and on the TV has been widely appreciated.
Read: Minecraft Update Adds In-Game Currency To Purchase 3rd-Party Content
Minecraft: Nintendo Switch Edition contains most recent updates for the platform and also comes preloaded with the Nintendo-exclusive "Super Mario Mash-Up" resource pack. Explore and expand the worlds you create with dozens of character models and object skins channeling the best parts of the Mushroom Kingdom. The expansion offers 40 skins, textures and even music from the iconic Super Mario 64.
Minecraft: Nintendo Switch Edition is available now exclusively for Nintendo Switch. Minecraft is also playable across current and last-gen gaming consoles as well as mobile devices. On all platforms, Minecraft has become the second best-selling game of all-time, second only to Tetris.
Have you had problems with Minecraft on Nintendo Switch? Are there more bugs that need fixing? Tell us in the comments section!
© Copyright IBTimes 2023. All rights reserved.
FOLLOW MORE IBT NEWS ON THE BELOW CHANNELS