Missing Amish Girls Update: No Photographs Of Sisters Exist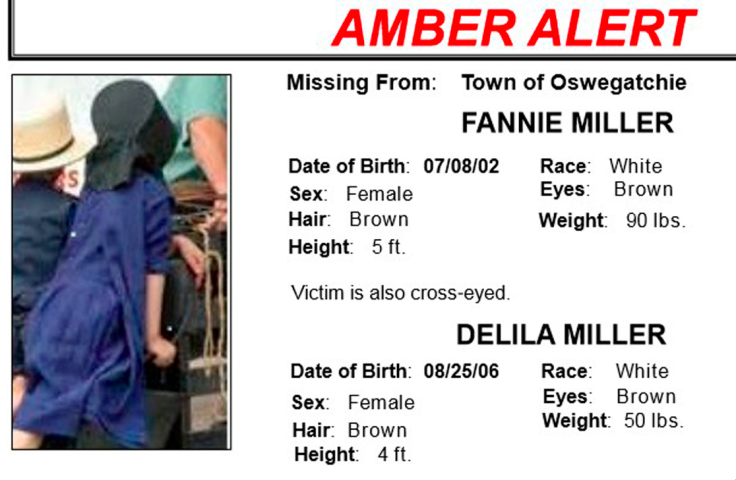 Update as of 1:19am EDT: Two missing Amish girls whose abduction in northern New York sparked an Amber alert have reportedly been found alive.
Reuters quoted District Attorney Mary Rain as saying that the two girls, 6-year-old Delia Miller and 12-year-old Fannie Miller, were dropped by their captors in front of a stranger's home in the hamlet of Bigelow. The captors then reportedly fled.
The Associated Press spoke to a neighbour who had spoken with a member of the Miller family, who said that the girls were well and being checked out.
No further details about the girls' ordeal were immediately available.
Original story below
The hunt to find two Amish girls, who were apparently abducted from their family's roadside farm stand in New York on Wednesday, continues.
Authorities were bogged down since they did not have photographs of the girls, the Associated Press reported Thursday. Since the Amish generally shun modern technology, police do not have any pictures to help identify the sisters, 7-year-old Delila Miller and 12-year-old Fannie Miller. The family agreed to release a sketch of the older child, St. Lawrence County Sheriff Kevin Wells told the AP. English is not the girls' first language, he noted.
The sisters were last seen wearing dark blue dresses with blue aprons and black bonnets on Wednesday evening around 7:30 p.m. Witnesses said a white car pulled up to the stand, put something in the back seat, and then drove away.
"We will aggressively pursue this case as a worst-case scenario," Wells said. Authorities are pursuing "numerous leads," Wells said.
Divers searched St. Lawrence River to rule out the possibility the girls were in the water, investigators spoke to nearby registered sex offenders and search teams on foot tried to make sure they weren't near the family's home.
The sisters' neighbor Dot Simmons said it was their chore to sell fruits, vegetables and jams made from the family farm. "The girls were always on watch if someone stopped to buy vegetables," Simmons said.
When the sisters didn't come home, the family checked the cornfield, but it was unlikely the girls would have wandered off, the neighbor told the AP. When they didn't return, police were called and an Amber Alert was issued.
Fannie has brown eyes, brown hair and was described as being cross-eyed. She is approximately 5 feet tall and weighs about 90 pounds.
Delila is approximately 4 feet tall and 40 pounds. She has brown hair, brown eyes and a round scar on her forehead. She is missing front teeth.
Anyone who has information the missing girls is asked to call the St. Lawrence Co. Sheriff's at (866) N Y S-AMBER or dial 911 .
Follow me on Twitter @mariamzzarella
© Copyright IBTimes 2023. All rights reserved.