'The Mist' Season 1 Finale Trailer Released; What Will Happen Next? [SPOILERS]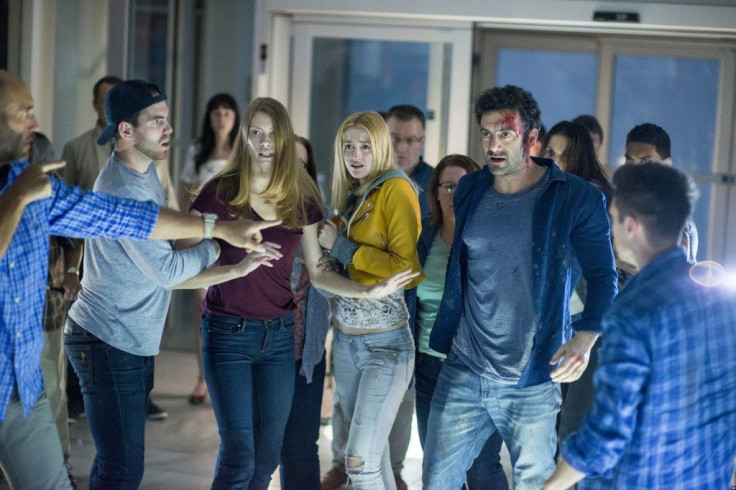 Kevin (Morgan Spector) will finally be reunited with his wife Eve (Alyssa Sutherland) and daughter Alex (Gus Birney) in the Season 1 finale of "The Mist." But their family reunion won't be a happy one as tensions at the mall ultimately come to a head.
As seen in the trailer for Season 1, episode 10 of the Spike series, Eve explains to Alex why she locked up Jay in a secluded room at the mall. "I have to protect you!" Eve angrily tells her daughter, who is clearly standing by Jay who she accused of raping her at the beginning of the season.
Kevin also catches up with Adrian (Russell Posner), who confessed to raping Alex in Season 1, episode 8. In the promo clip for the finale, Kevin brutally beats Adrian up in retaliation for what he did to his daughter. "I wanna see you suffer," Kevin tells Adrian in the video.
While Kevin's arrival at the mall means that Jay's name will soon be cleared, the trailer reveals that the high school football superstar will actually find himself in a more dangerous situation. In the promo clip, Jay reunites with his father Connor (Darren Pettie), who — unbeknown to the teenager — is tasked by Nathalie (Frances Conroy) to kill him. But can Connor actually take Jay's life?
"You're ashamed of what you're going to do?" Nathalie asks Connor, who seems to be having second thoughts of killing Jay in the trailer.
Elsewhere in the promo clip, Wes (Greg Hovanessian) tells Jonah (Okezie Morro) that they need to go back to Arrowhead. Mia (Danica Curcic) wants to go with them, but it looks like Jonah has no plans of taking her with him even after telling her last episode that he'll go with her after everything comes back to normal.
"We can all go together. Don't leave me," Mia begs Jonah in the video.
Towards the end of the trailer, the majority of the survivors seemingly agree to kick the Copelands out of the mall. "This is insane," Morgan screams. But Kyle (Romaine Waiter) reasons that they have the right to defend themselves from anyone they see as a threat.
"The Mist" Season 1 finale, titled "The Tenth Meal," airs on Thursday, Aug. 24 at 10 p.m. EDT on Spike. Watch the trailer below:
© Copyright IBTimes 2023. All rights reserved.