Mitch McConnell Says, No Government Shutdown Even If Obama Acts On Immigration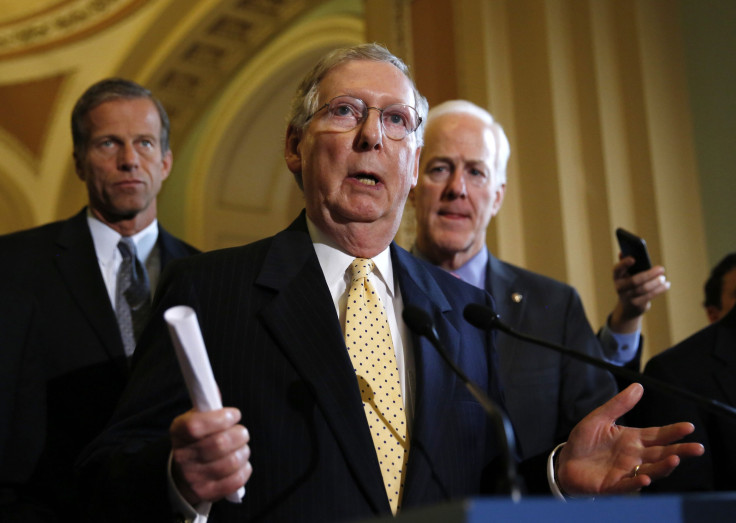 WASHINGTON – Sen. Mitch McConnell made a clear statement Thursday: There will be no government shutdown. The Kentucky Republican, who will take over as majority leader in January, renewed his vow not to shut down the federal government as conservatives in his party called for fighting the president's immigration proposals through spending legislation.
Some Republicans in Congress are arguing that if President Barack Obama moves forward with his promise to sign executive orders addressing immigration, the GOP should attach language to spending bills that would undo the actions. Congress must pass a spending bill by Dec. 11 to prevent another government shutdown.
"We will not be shutting the government down or threatening to default on the federal debt," McConnell said Thursday at a press conference when asked about Republican calls for attaching extra provisions to the spending bill.
What will Republicans in Congress do if Obama moves forward? "We'll let you know," McConnell replied.
Senate Majority Leader Harry Reid, who will switch titles with McConnell in January, said Obama might be wise to wait to act on immigration until after the December 11 spending deadline.
"The president has said he's going to do the executive action -- the question is when he can do it. It's up to him," Nevada Democrat Reid told reporters according to the Huffington Post. "I'd like to get the finances of this country out of the way before he does it."
McConnell may have little say in the matter. He had opposed the government shutdown in 2013 and played a key role in helping negotiate the reopening of government. During that fight, conservatives in the House prevailed in the debate and succeeded in tying defunding the Affordable Care Act to the bill that was needed to keep the government open. It took 16 days before a compromise could be reached that reopened the government, and didn't include the changes to the ACA, also known as Obamacare.
Immigration is shaping up to the biggest fight in Congress as Republicans move closer to taking control of both chambers in January. Obama has said he will act without the legislative branch, signing executive orders that could halt or prevent the deportation of 5 million immigrants.
Obama's plan has incensed Republicans, who say he will be acting beyond the power of the executive by providing "amnesty" to undocumented immigrants.
The spending legislation already had the makings of a fight between Obama and Republicans in Congress. Without additional spending authorization by Dec. 11, the government would shut down. Prior to the midterm elections, both sides were discussing passing an "omnibus" bill that would keep the government open through September 2015.
But now that Republicans will control both houses, many GOP members are arguing that they shouldn't agree to a spending bill that covers such a long period. Instead, they want to pass a short-term continuing resolution that would fund the government only through the beginning of next year. That would give them more leverage in January to fight with the White House, including on immigration.
This article has been updated to include a comment from Sen. Harry Reid.
© Copyright IBTimes 2023. All rights reserved.