Most Challenged Books Of 2018: American Library Association Releases Annual List
The American Library Association (ALA) released the annual list of most challenged books Monday as part of National Library Week.
The ALA Office for Intellectual Freedom chose the 11 most challenged works among 483 books that were either banned or restricted from public access in 2018.
Here is the complete list for 2018 and the reasons why the works were challenged –
"George" by Alex Gino – The book, which was written for elementary-age children in 2015, was found offensive as its protagonist was a transgender child. Most recently, the Wichita, Kansas, school system decided to ban the book from the district libraries citing that the work had references and language that wasn't appropriate for schoolchildren. The book also made it to ALA's list in 2016 and '17. The work is also believed to "encourage children to clear browser history and change their bodies using hormones."
"A Day in the Life of Marlon Bundo" by Jill Twiss, illustrated by EG Keller – The best-selling parody by John Oliver, which was written by "Last Week Tonight" staffer Jill Twiss, was in response to the book "Marlon Bundo's Day in the Life of the Vice President" by Charlotte Pence, Vice President Mike Pence's daughter. The work pictured Pence's pet rabbit as gay and also criticized the family's conservative social viewpoint.
"Captain Underpants" series, written and illustrated by Dav Pilkey – The 10-part series revolves around two young boys creating a superhero. A complaint was filed against the book with the Office for Intellectual Freedom stating that the language used in it was not appropriate for the targeted age group. The book also allegedly promoted "disruptive behavior."

"The Hate U Give" by Angie Thomas – The novel, which revolves around the life of a young girl who became an activist after her unarmed friend was killed by a police officer, was deemed "anti-cop." A complaint was filed against the book for explicit language and featuring drug use.
"Drama" written and illustrated by Raina Telgemeier – The 2012 graphic novel was banned in school libraries for featuring LGBTQ characters and themes. The work featured in ALA's previous lists for having offensive political viewpoints and for being sexually explicit.
"Thirteen Reasons Why" by Jay Asher – The work, which was originally published in 2007, came under the scanner after Netflix aired a series with the same name in 2017. The book's depiction of suicide was the primary reason for it being banned. The book was deemed unsuited for children and teens as it featured drug and alcohol use. It was also challenged for its sexual content.

Thirteen Reasons Why by Jay Asher is the story of a high school student as she descends into despair brought on by betrayal and bullying, culminating with her suicide. She tells the thirteen reasons why in an audio diary that's mailed to a friend after her death. Read and enjoy! pic.twitter.com/mGGtDUZgDM

— YA Fiction Literature (@MeganCWrit101) April 8, 2019

"This One Summer" by Mariko Tamaki, illustrated by Jillian Tamaki – The work, which topped ALA's list in 2016, was banned for featuring LGBTQ characters. The book revolves around the life of a teen girl who navigates the start of adolescence with the help of a female friend. The book was also challenged for drug use, profanity and having sexually explicit themes.
"Skippyjon Jones" series written and illustrated by Judy Schachner – The series, which features a Siamese cat that assumes to be a Chihuahua, was criticized for depicting Mexican stereotypes.
"The Absolutely True Diary of a Part-Time Indian" by Sherman Alexie – The work has featured in ALA's list six times since its publication in 2007 for its sexual references, depiction of alcoholism, bullying and poverty. It was also deemed sexually explicit and challenged in school curriculums.
"This Day In June" by Gayle E. Pitman, illustrated by Kristyna Litten – The children's picture book about a gay pride parade was challenged for including LGBTQ content.
"Two Boys Kissing" by David Levithan – The book, which was about two teen boys participating in a 32-hour marathon of kissing in order to set a new Guinness World Record, was considered sexually explicit as the book's cover page has an image of two boys kissing. It was also banned for the LGBTQ content.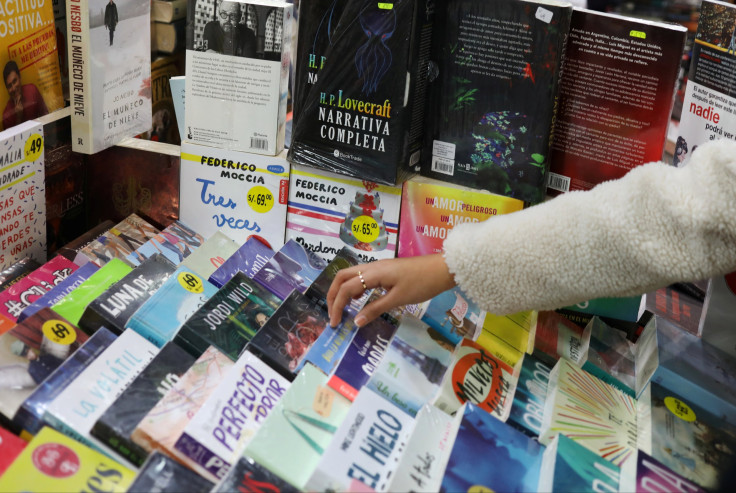 © Copyright IBTimes 2023. All rights reserved.