'The Most Colorful Time Of The Year' Hallmark Movie Premiere: Trailer, Synopsis, Cast
Hallmark Channel's merry holiday season continues with the newest "Countdown to Christmas" holiday premiere, "The Most Colorful Time of the Year." The film, starring Katrina Bowden and Christopher Russell, premieres Friday night.
The film is sure to be a treat for fans, as they likely aren't overly familiar with Bowden, but will recognize Russell. He has been a staple on Hallmark in recent years, starring in the films "All Summer Long," "The Mistletoe Secret," "Nature of Love," "Love in the Forecast," "Chasing Waterfalls," "Warming Up To You" and "Where Your Heart Belongs." He also appeared in Lifetime holiday films, including "Christmas Unleashed" and "Forever Christmas."
As for Bowden, while she did star in Hallmark's "Love on the Slopes," her other known roles are in Lifetime's "Framed by My Fiancé" and as Flo Fulton on "The Bold and the Beautiful."
Ava Weiss ("When Hope Calls") also stars.
So what can fans expect from the film? Let's find out.
"Ran (Russell) is an elementary school science teacher who meets Michelle (Bowden), an optometrist, whose daughter Bailey (Weiss) is in his class. While helping out in the school gymnasium giving eye exams, Michelle notices something different about Ryan—he lacks interest in color which is surprising given the holiday season," a synopsis for the film reads. "When Michelle is finished seeing the kids, she prompts Ryan to participate in an eye exam. He is reluctant and cuts it short, leaving her to suspect he may be colorblind. To confirm her suspicion, Michelle humorously tries to trick Ryan. He is guarded and sly but ultimately gives himself away."
Michelle and Bailey then set out to bring color to Ryan's life in ways he never imagined possible.
"Michelle gains access to specialty glasses for Ryan but he refuses them. When Bailey learns of this, she sneaks them into her backpack and leaves them on her teacher's desk with a handwritten note, 'These glasses exist because of science, and you taught me that science should give us hope,'" the synopsis continues. "As Michelle and Bailey are leaving, they see Ryan exit his class with the glasses in hand. Michelle follows him into a building where there's a colorful nativity scene lit up beautifully."
Ryan will be moved by what he finds as he opens himself up to Michelle and Bailey's help.
"When Ryan puts on the glasses and opens his eyes for the first time, the world appears in technicolor. His reaction is significant and emotional. He can't believe how beautiful everything is!" the synopsis concludes. "Michelle takes it upon herself to introduce him to the world of color setting off a series of adventures."
"The Most Colorful Time of the Year" premieres Friday, Dec. 9 at 8 p.m. EST on Hallmark Channel.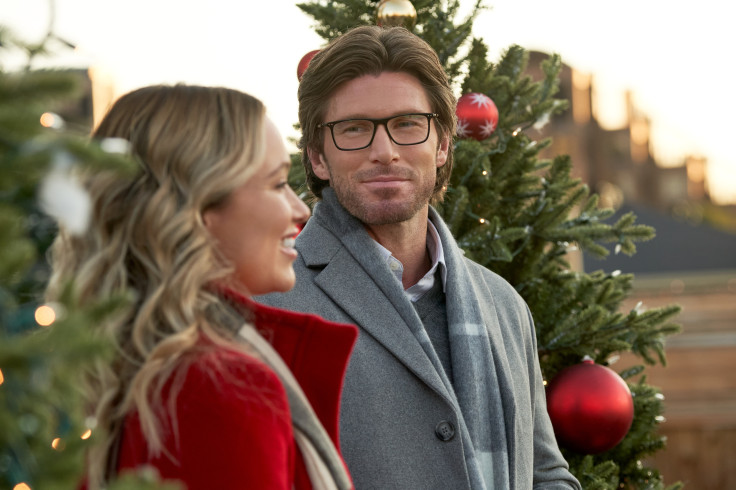 © Copyright IBTimes 2023. All rights reserved.