Mother's Day Playlist 2016: 14 Mom-Themed Songs To Celebrate The Holiday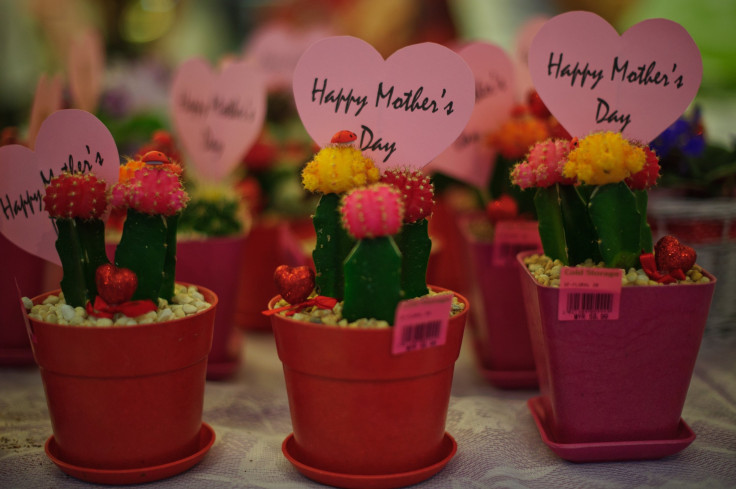 Mother's Day is almost here and people will soon show their moms how much they love and appreciate them this Sunday with flowers and others gifts. Sometimes the best way to show someone you care is through music. If you're looking for songs that are perfect to show your mom how grateful you are for all she's done, here are 14 songs for you and your mother to enjoy this holiday.
1. Backstreet Boys —​ "The Perfect Fan"
The Backstreet Boys have millions of fans around the world who love them. However, there are a few people in particular for whom this song was made. The group wrote this track for someone who was a fan from day one, their mothers.
2. Kanye West —​ "Hey Mama"
Before Kanye was one of the biggest rappers in the world, he wrote a touching song for his mother called "Hey Mama," which appeared on his 2005 album "Late Registration." Throughout the song Kanye praises his mother for his upbringing. Kanye's mother, Donda, died in 2007, but she did get to hear the song her son wrote for her.
3. Ozzy Osbourne —​ "Mama I'm Coming Home"
Ozzy is known for being one of the legends of metal, but that doesn't mean he can't write a ballad. Although the song was written for his wife Sharon, the song still applies to those who want to praise their mothers and let them know that they're coming home for the holiday.
4. Pink Floyd — "Mother"
"Mother" was a key track on Pink Floyd's epic concept album, 1979's "The Wall. The song is about a mother who's a little over protective and ultimately leads to the main character building up an emotional wall. However, at the end of the day she loves her son a lot and he comes to her for advice.
5. 2pac — "Dear Mama"
2pac may have been all about the "thug life," but he wasn't afraid to let the world know how he felt about his mom. The rapper let his mother know he loved and appreciated her for all she did for him growing up. This year the song might be a little eerie since Afeni Shakur died May 2.
6. Good Charlotte —​ "Thank You Mom"
Good Charlotte may have written songs about being angry at fathers, but mothers hold a special place in the band's heart. This hidden track off the band's self-titled debut album thanks Mom for everything and says they'll always love her in a touching song from a punk band.
7. Natalie Merchant — "Kind and Generous"
While this song isn't necessarily about mothers, Natalie Merchant's "Kind and Generous" is one of the best thank you songs out. Just like Good Charlotte, thank your mother for all the kind things she's done with this '90s hit.
8. Carrie Underwood — "Mama's Song"
Carrie Underwood wrote a sweet song for her mother with "Mama's Song." The track tells the story of a woman remembering what she learned growing up from her mom as she starts to raise her own child. She assures her mother "not to worry" about her as she becomes a parent.
9. Taylor Swift — "The Best Day"
No "Bad Blood" on this song. Unlike past men in her life, Taylor Swift holds her mom in high regards and she wrote "The Best Day" for her. Swift sings about how her mother was always there for her, especially as a teenager, and helped her become the person she is today. The song is off her 2008 album "Fearless."
10. Elvis Presley — "Mama Liked the Roses"
Every year people go out and buy their mothers roses on Mother's Day. Rock legend Elvis Presley sings about this phenomenon on "Mama Liked the Roses" and how he grew up with a mother who cared for the entire family.
11. Nas — "Dance"
"Dance" isn't the happiest song, but Nas pays tribute to his late mother in this track off his 2002 album "God's Son." Nas' mother died before the album came out and the rapper wrote "Dance" to honor her. He raps about how much he loves and misses his mother. He wishes he could "only have one more dance" with his mom.
12. The Beatles — "Julia"
The Beatles wrote dozens of love songs when they were a band. This one was written by John Lennon for his dead mother, and it appears on the group's 1968 album "The Beatles (The White Album)."
13. Tina Turner — "The Best"
Although this is a love song, it can still apply to moms on Mother's Day. Tell your mother she's "Simply the Best" this Sunday with Tina Turner's hit single from 1989.
14. Justin Bieber — "Turn to You"
Justin Bieber has nothing to be sorry about with his song "Turn to You." The pop singer released "Turn to You" as a Mother's Day single in 2012 to show appreciation and love for his mother.
© Copyright IBTimes 2023. All rights reserved.