Spring Playlist 2016: 16 Warm Weather-Themed Songs To Celebrate The New Season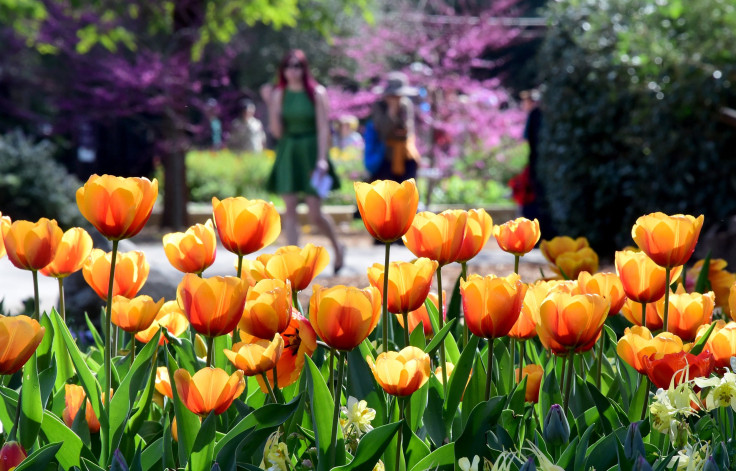 Winter has dropped its share of snow and delivered some very cold temperatures over the past few months. However, soon everyone can put their cold gear away as we are only a few days from spring. The first day of spring is Sunday, March 20 and eventually it will bring warm weather, more sunshine and opportunities to get outside and do something. To get in the mood for spring, here are 16 songs to help you enjoy the season.
1. The Beatles - "Here Comes The Sun"
After a winter filled with short days, cold and snow, we could all use some sunshine now that spring is almost here. "Here Comes The Sun" is one of the Beatles' most popular songs and it's also a fitting one for the transition between winter to spring.
2. Len - "Steal My Sunshine"
This 1999 classic features samples from the Andrea True Connection's track "More, More, More" and is basically a must listen for the spring/summer season. The song, which was Len's only hit, can easily get stuck in your head. It went on to reach No. 9 on Billboard's Hot 100 and No. 3 on Top 40 Tracks.
3. Modest Mouse - "Talking S--- About A Pretty Sunset"
The time of year where you can go watch a sunset and not freeze will soon be here. Modest Mouse's "Talking S--- About A Pretty Sunset" captures the atmosphere of seeing the sun go down on this near six minute track, especially in the instrumentals of the last two and a half minutes of song.
4. Nelly - "Hot In Herre"
Nelly created an anthem for both spring and summer with his hit "Hot in Herre." The song was produced by the Neptunes and was the rapper's first No. 1 hit on the Billboard Hot 100.
5. The Early November - "Outside"
The emo band The Early November have a message for those who have been spending most of their time inside. "It's time to go outside." While the song is basically about people who sit indoors on computers, it can also apply for people who have felt trapped inside their homes this winter.
6. The Lonely Island - "Spring Break Anthem"
Spring break has become a large part of the season. Comedy trio, The Lonely Island sum up the debauchery of college spring breaks in their song "Spring Break Anthem." The song contains a few curse words so use discretion when watching the music video and playing the track.
7. John Fogerty - "Centerfield"
Some see warm weather as a chance to get outside, while sports fans see it as the beginning of baseball season. Celebrate opening day and the start of a new year with John Fogerty's baseball anthem "Centerfield."
8. Yellowcard - "Ocean Avenue"
Many towns across the country have an "Ocean Avenue" which can create some nostalgia of spring/summer days from the past. Yellowcard captures the sounds and feelings of spring with their hit single. The song became a mega hit in 2004 and has since been certified platinum twice.
9. Natasha Bedingfield - "Pocketful of Sunshine"
Go away on a "sweet escape" with Natasha Bedingfield on her hit song "Pocketful of Sunshine." We can all use a vacation and some sunshine after a long winter.
10. Darius Rucker - "Alright"
Nothing says warm weather like country music. Winter coming to an end is something that's "Alright" by a lot of people. On "Alright," Darius Rucker sings about things that are pretty good in his life in this upbeat track.
11. U2 - "Beautiful Day"
"Beautiful Day" sounds like the title suggests, a beautiful day.
12. Sugar Ray - "Fly"
Sugar Ray has made a career of making songs that sound like summer. "Fly" is good for rolling down the windows of your car as you drive and take in the spring air. This 1997 classic has become a staple track for the band and helped launch their career.
13. Quad City DJ's - "Space Jam"
Not only is baseball season beginning, but March means it's time for NCAA Tournament for men and women's basketball. While "March Madness" will decide which school takes home the championship this year, the NBA playoffs will also begin this spring. Get in the mood for some hoops with "Space Jam."
14. Kanye West - "Good Morning"
The first track off Kanye's 2007 album "Graduation" is not only a good song to start your day with, but it's also a solid choice to put on your spring playlist. The "Stronger" rapper samples Elton John on the track, which sets the tone for the album and for a new season.
15. Foo Fighters - "Walk"
On "Walk," Dave Grohl sings "I believe I've waited long enough/ where do I begin?" We've all waited long enough for winter to end and we can once again walk around outdoors, head to the beach or to a park.
16. Pharrell Williams - "Happy"
With the arrival of spring it means that summer is right around the corner. "Happy" sums up the feelings people have this time of year as the days get longer and temperatures heat up.
© Copyright IBTimes 2023. All rights reserved.
FOLLOW MORE IBT NEWS ON THE BELOW CHANNELS