Who Are The Movo SPL Universal Clip On Camera Lenses For?
The Movo SPL universal clip on camera lenses are a simple way to add creative options to any cell phone's camera
There are three different types of lenses, a telephoto lens, a wide angle lens and a fisheye lens
All three lenses work with any phone and don't require any batteries or software
Movo knows the power of smartphones like few other companies, and has created a wide range of devices to tap into that power for content creation. The company is back at it with their line of clip-on camera lenses. There are three different options available right now, a fisheye lens, a telephoto lens and a wide angle lens.
Easy To Use
All three lenses are pretty much identical to each other, outside of the actual lens part. All three use the same style of clip to attach to phones. Each lens screws into its clip, then must be centered properly over a phone's camera. I found the easiest way to do this is to look through the lens to see the camera on the other side. The lenses do need to be centered decently, otherwise a black border will appear in pictures and the lens effect won't look as it should.
The Movo lenses also all come with their own lens caps, which have a decent heft to them. In fact, the lens contraptions, once put together, add a noticeable amount of weight to a phone. Despite the added weight, the lens clamps hold onto the phone tight enough to stay in place, but not tight enough to cause any screen damage.
Once attached to a phone, or other device with a camera, the lens is all set up and ready to go. There aren't any apps that need to be downloaded or devices that need to be charged. The Movo lenses are delightfully low-tech, making them compatible with just about anything.
The only issue I had with the Movo lenses is that my cell phone's camera is placed right in the middle of the back of my phone. For reference, I used the OnePlus 7T. That meant I had to put the lens on from the top of my phone, which resulted in the clip blocking my light sensor. This forced my phone's screen to be very dark even though I was in the sunlight. The photos still came out just fine, and I could probably avoid this issue by manually setting my phone's brightness or figuring out a new way to attach the lenses, but it was still a little weird to see my phone's screen almost disappear every time I put on a lens.
Fisheye
As the lenses are all nearly identical from a use perspective, let's dive into how each one actually takes photos. The first up is the fisheye lens, which offers an increased photography angle of 238 degrees. Of the three lenses, the fisheye lens probably has the most dramatic image transformation. That said, I personally don't have as much of a use for fisheye photographs.
Telephoto
The telephoto lens offers a 3x zoom, but cannot be altered to increase or decrease this magnification. The lens can still be coupled with a cell phone's built-in zoom, but this does result in a more blurry image thanks to the phone's digital zoom.
Wide Angle
Interestingly, the Movo wide angle lens is the only one of the three that comes with a carrying case. This case comes with a microfiber cloth to clean the lens and a carabiner clip to attach the case to a bag or something similar.
Doesn't Always Work
While the lenses work just fine with a basic camera, my OnePlus 7T already has an additional wide angle lens and zoom lens built into it. This is also the case for other phones like the iPhone 12 line of devices. I thought I could break the system by putting the Movo wide angle lens on my phone's wide angle lens to make a super-wide angle lens, but it doesn't work. Because the phone's lens is already at a wide angle, that means the phone sees the lens attached to it, but doesn't really see through the lens. This results in a photograph that is more of the back of the Movo lens than anything else, though it is a cool effect.
Similarly, the zoom lens on my phone only can focus on the Movo lens glass. This means any photo that uses the zoom lens on my phone is just blurry and doesn't look like anything.
Despite these issues, the normal camera, as well as the front-facing camera, both were fine for taking photos with all of the Movo lenses.
Final Thoughts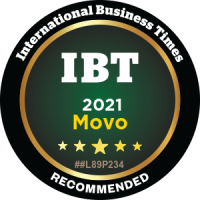 For amateur photographers, the Movo lenses are a fast, inexpensive way to get a different view or add a fun effect to a shot. At roughly $40 per lens, the Movo lenses aren't major investments either, making the lenses even more attractive for just about anyone. These could also be a great addition to a professional's kit as well. The lenses make for a very easy way for someone to scout out a location without having to bust out the big gear.
The Movo cell phone lenses are certainly no replacement for professional photography gear, and they aren't increasing image quality from cell phone cameras. However, these lenses are awesome for someone who wants to improve on their cell phone's camera by adding creative options when taking pictures without any hassle.
Special Thanks
I'd like to give a big thank you to my fianc?, Lauren, for helping with the design of this review, specifically the layout of the images. I would also like to thank Brandon Ivey for the use of his "zoom" photos.
International Business Times offers links to items to help our readers find interesting products. When you buy through links on our site, we may earn an affiliate commission. Here are our
T&C
. For licensing please
click here
.