MTV Video Music Awards 2014: Britney Spears Responds To Katy Perry Denim Dress; Who Wore It Better? [POLL]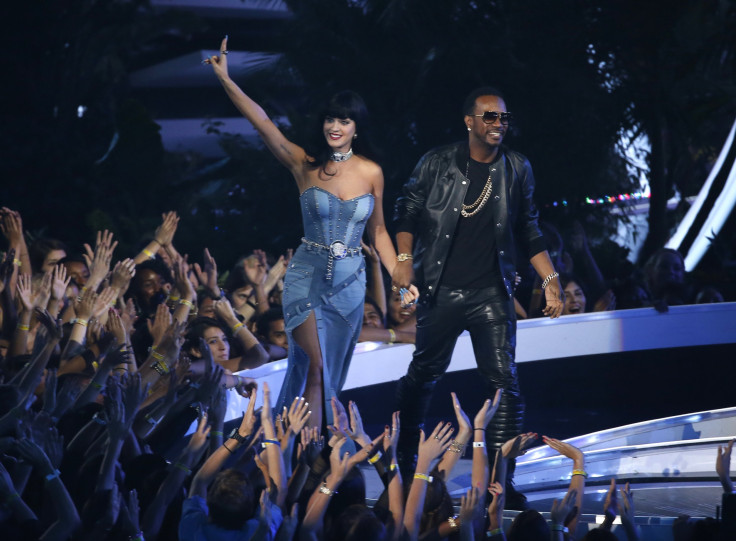 The denim dress returned to the red carpet Sunday. Katy Perry arrived at the 2014 MTV Video Music Awards show wearing an outfit nobody ever thought would be seen in front of the cameras again -- a stunning denim gown reminiscent of the dress Britney Spears wore to the 28th annual American Music Awards presentation in 2001.
The dress Spears wore alongside then-boyfriend Justin Timberlake (who matched in a dapper denim suit) is iconic to fans of the pop starlet. The "Dark Horse" singer used Spears' 2001 look for inspiration at the VMAs Sunday, even enlisting the help of her TMZ-rumored boyfriend Riff Raff to stand in as her Timberlake.
Perry took to Twitter before the MTV Video Music Awards to tease fans about her clothing choice, which was created by Versace Couture:
And Perry was not alone in loving her clothing decision for the awards show. The denim-style icon herself, Spears, also took to Twitter to respond to Perry's VMA look, tweeting with a "winky" face:
[Click HERE to take a look at the best and worst dressed stars on the MTV VMAs red carpet.]
Who do you think wore the denim dress better? Take the poll to cast your vote and tweet your thoughts to @AmandaTVScoop.
© Copyright IBTimes 2023. All rights reserved.