Mumford & Sons Have The Most Charting Singles Since The Beatles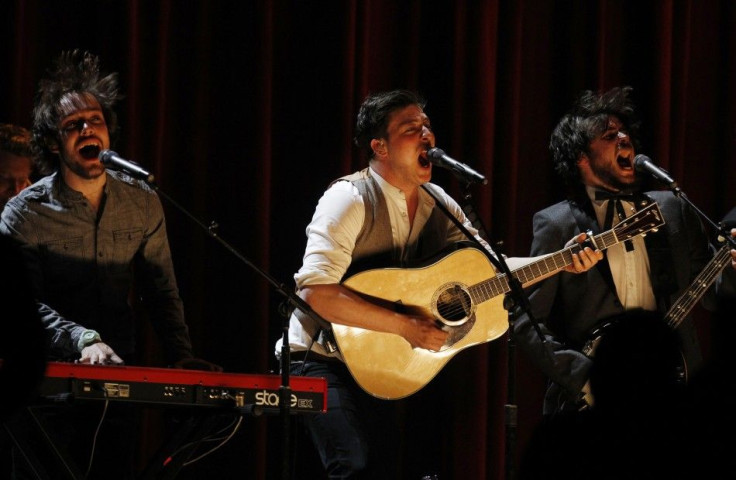 Mumford & Sons is the biggest thing in music right now. The folk-rock quartet just broke records for the year with its newest album "Babel" selling more than 600,000 units in the first week.
And now the group has hit a landmark that hasn't been reached in 48 years, with six concurrent hits on the Billboard Hot 100 list. The only group to ever beat that record? The Beatles.
Counting them down, the six charting Mumford & Sons songs are "Ghosts That We Knew" at No. 94, "Holland Road" at No. 92, "Whispers in the Dark" at No. 86, "Lover's Eyes" at No. 85, "Babel" at No. 60, and "I Will Wait" at No. 57. Those are some impressive numbers for a band that places their banjo player front and center onstage.
Despite their success, however, Mumford & Sons isn't exactly about to break The Beatles' record any time soon. Mumford & Sons may have six songs in the Hot 100, but it isn't even close to the record held by Paul McCartney, John Lennon, George Harrison, and Ringo Starr. Especially considering that the highest-charting Mumford & Sons song, "I Will Wait," is only No. 57.
At its height of popularity, The Beatles had 14 singles on the top 100 list for the week of April 11, 1964. The 11 charting hits included the all-time classics "She Loves You," "I Want to Hold Your Hand," and "Can't Buy Me Love," all of which eventually peaked at No. 1.
On April 4, 1964, those three songs -- alongside "Please Please Me" and "Twist and Shout" -- were the top five singles on the Billboard charts. While Mumford & Sons are big, it's doubtful it (or any other band) will ever achieve fame of that level.
During its career, The Beatles had 20 singles hit No. 1 on the Billboard Top 40 and 19 albums reach No. 1 on the Billboard Top 200. By 1972, only two years after the band broke up, the Beatles had sold 545 million records worldwide.
Now, that figure stands at more than 1 billion. That's not even counting successful Beatles solo records and projects including other bands such as Wings, the Traveling Wilburys, and the Plastic Ono Band.
Listen to Mumford & Sons' latest single, "Babel," below.
© Copyright IBTimes 2023. All rights reserved.
FOLLOW MORE IBT NEWS ON THE BELOW CHANNELS