Musicians For Hate? Accusations Highlight Ethnic Tensions In Kenya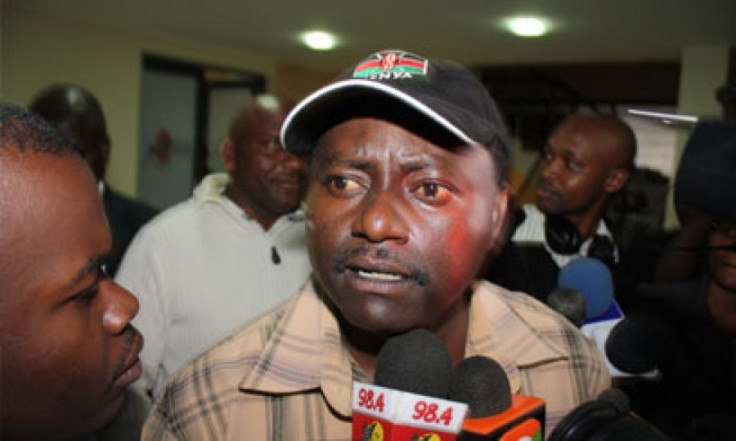 Three prominent Kenyan musicians have been charged with using hate speech in their song lyrics and inciting ethnic violence for political purposes.
Kamande Wa Kioi, John Muigai Nyaruru (alias Muigai Wa Njoroge) and John Mwangi (alias John De Mathew), who are all members of the Kikuyu ethnic group, have been accused of employing language in their music that disparages politicians of the Luo ethnic group in the runup to the country's general elections next year.
The charges were brought by the National Cohesion and Integration Commission, a government body established in response to the ethnic bloodshed that erupted following the 2007 presidential elections.
Some of the lyrics are alleged to make inflammatory references to Prime Minister Raila Odinga, a Luo expected to run for president against Deputy Prime Minister Uhuru Kenyatta, a Kikuyu.
One of Nyaruru's songs written in the Kikuyu language and translated by the prosecution reads as such:
If you knew that the Hague is being pushed to you by an uncircumcised man who wants you to be hanged so that you leave your wife for him to enjoy with; while he sees you in trouble.
The lyrics seem to defend Kenyatta, who has been named a suspect by the International Criminal Court in The Hague in relation to the post-2007-election violence, implying that Odinga, believed to be the uncircumcised man (the Luo people do not traditionally practice male circumcision), is behind the push to prosecute Kenyatta.
The musicians face prison sentences of up to three years or a fine of about $12,000 if found guilty.
Their lawyer, Gichuki Kingara, said the court is applying criminal interpretation to artistic works in a gross abuse of the court process, according to the AFP news agency.
Ethnic Tensions Sparked By Political Rivalries
Longstanding tensions between the Kikuyu people, Kenya's largest ethnic group representing 22 percent of the population, and the Luo people representing 14 percent of the population, have persisted over land and resource disputes.
Tensions boiled over following the 2007 elections, which saw incumbent President Mwai Kibaki re-elected, defeating Odinga. Supporters of Odinga, many of them Luos, denounced Kibaki, a Kikuyu, alleging that his re-election was fraudulent and riots broke out with attacks primarily targeting Kikuyus.
The U.N. estimated that more than 1,500 people died in the violence with around 300,000 people displaced. A compromise was reached in February 2008 with the creation of the position of prime minister, which was filled by Odinga.
© Copyright IBTimes 2023. All rights reserved.
FOLLOW MORE IBT NEWS ON THE BELOW CHANNELS