'My Hero Academia' Season 4 Episode 20 Live Stream Details Revealed; Watch 'Golden Tips Imperial' Online
KEY POINTS
Gentle Criminal and La Brava move ahead with their plans
Class 1-A is busy preparing for the concert
School festival preparations are in full swing
The comedic villain duo Gentle Crime and La Brava are planning against the U.A. Academy while the students of Class 1-A continue their preparation in "My Hero Academia" Season 4 episode 20 titled "Golden Tips Imperial."
This article contains spoilers from 'My Hero Academia' Season 4 episodes.
Gentle Criminal uploads videos of what are known as criminal actions on a website. However, he does commit crimes at random. According to the man himself, he punishes those who behave in "an ungentlemanly way." He claims to be a modern-day gentleman thief.
Meanwhile, Hero course Class 1-A is doing a concert for the school festival. Jiro asks if they can play any instruments and her classmates are clueless. Bakugo takes up the drummer duties for the band. He is clearly fired up about the performance as he announces that they should kill everyone in U.A. with their sound. We can feel the passion in him.
In episode 19 of "My Hero Academia" Season 4, Yao-momo decides that she will be on the keyboards. Later in the episode, the class members try to convince Jiro to lead the band and be the singer.
And when Jiro starts to sing, she mesmerizes everyone with her performance. Jiro is a star and this girl has pipes. She can outshine anyone when it comes to music. The episode also shows Deku's improved powers. He can now raise control from five percent to eight percent.
'My Hero Academia' Season 4 episode 20 preview
"We are pressed for time as we get ready for the school festival, but Eri's here to visit us! But Gentle Criminal is making steady progress on the preparations for his plan. When Gentle finishes drinking the legendary tea, a crisis will arise. The name of that tea is… He is after the U.A. and the school."
"My Hero Academia" Season 4 episode 20 will be available online for live stream on Crunchyroll.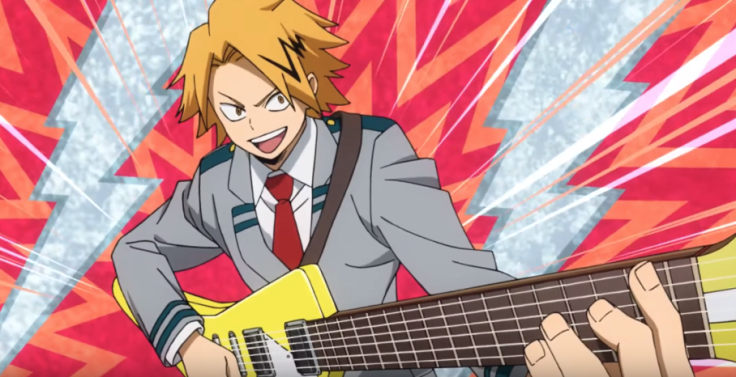 © Copyright IBTimes 2023. All rights reserved.