'Mythbusters' Mega-Marathon 2015: When And Where To Watch The Myth-Busting Holiday Special On The Science Channel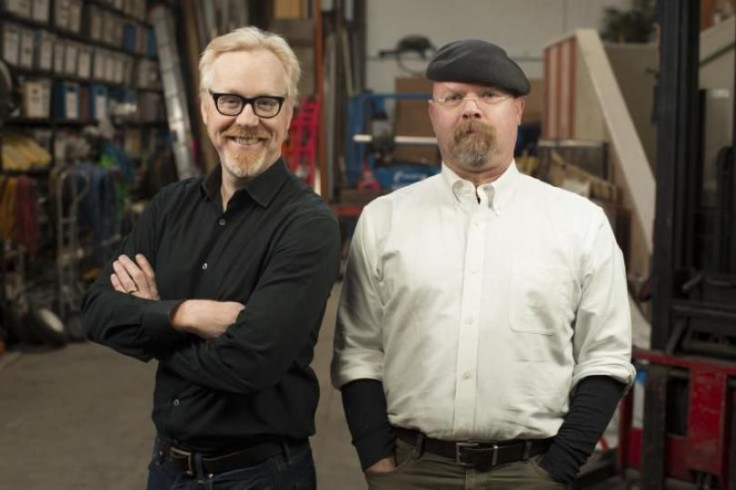 Christmas just came early! Well, for science-lovers at least. When the clock strikes midnight on Dec. 24, fans of the long-running Discovery Channel series "MythBusters" will receive the ultimate gift from co-hosts Adam Savage and Jamie Hyneman: a mega-marathon of busting myths.
The holiday marathon, set to air on the Science Channel, will feature 248 episodes (to be aired in chronological order) from the previous seasons of the long-running science program. That means viewers will be able to revisit fan favorite installments like "Sinking Titanic," where the duo test if the large ship could pull victims down with it, and the "Breaking Bad"-themed episode, which recreates two iconic scenes from the AMC series.
After 10 days of myth busting madness (we're talking 2,950 experiments, 1,050 myths and 900 explosions later) the mega-marathon will conclude with a bang on Sunday, Jan. 3 at 8 p.m. EST.
But never fear, "MythBusters" lovers! Savage and Hyneman will shortly make their way back to the small screen with the premiere of the final season of "Mythbusters." In October it was revealed that the Discover Channel series, which first premiered in 2003, would be coming to an end of a myth-busting era.
Our Final Season will air this January. Send your farewells using #MythYouGuys! We will CONFIRMED myth all of you. https://t.co/qjyr2vhdm4

— MythBusters (@MythBusters) October 21, 2015
"Our crazy, wild, amazing, wooly, wonderful, insane adventure is finally coming to a close," Savage confirmed to fans in a video posted to Twitter before thanking them for their support throughout the years. Hyneman's glasses-sporting co-host promised audiences, in an interview with Entertainment Weekly, that the final installment of "MythBusters" will be one you won't want to miss.
"The series finale is pretty amazing," the Discovery Channel star vowed.
But we'll be the judges of that when we test out that myth during the final season of "Mythbusters," which premieres on Jan. 9, 2016 on Discovery Channel. The "MythBusters" holiday mega-marathon will kick off Thursday, Dec. 24 at 12:00 a.m. EST and conclude on Sunday, Jan. 3 at 8 p.m. EST. on the Science Channel.
© Copyright IBTimes 2023. All rights reserved.