Nadiya Suleman: Octomom Regrets Undergoing IVF And Having 14 Children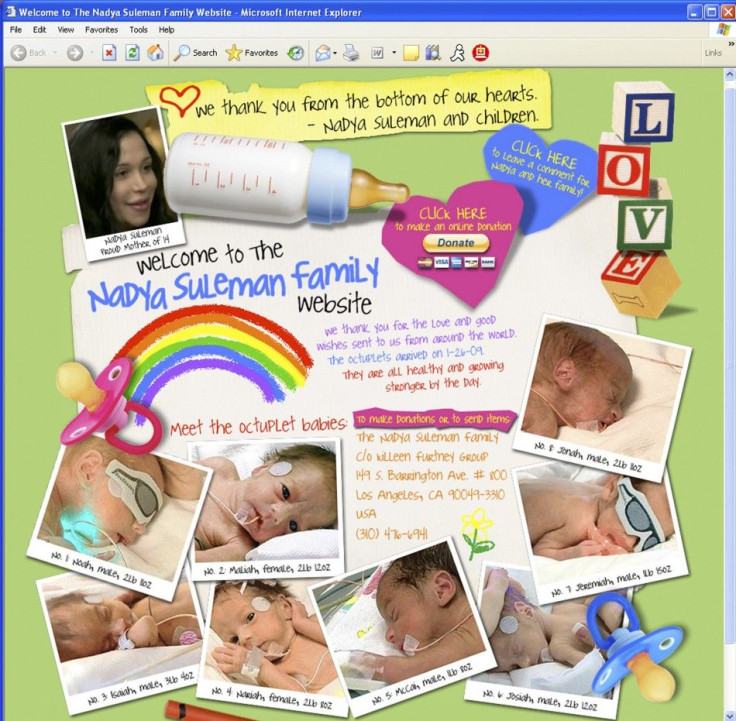 It might have taken some time for an octomom, who recently hit headlines with her nude photo shoot for Closer magazine, to realize the burden of taking care of 14 children.
The 36-year-old mother is a single parent and all her children have been born via in vitro fertilization.
Suleman, who has reportedly said that she was addicted to having children, sat down for an interview with Dateline NBC on Friday night. When interviewer Tamron Hall asked her, Looking back, was it a mistake to go back and have IVF after having six children already?'
Yes, said Suleman. Absolutely. Was I in my lucid state of mind? I don't know at that point. I could rationalise myself away and I'm good at rationalising.
When Suleman decided to go for a seventh pregnancy in 2009, she was living with her mother.
When she was asked if she thought beforehand about how she was planning to provide her children, she said, I think at that time I was in denial, she answered.
Suleman recently turned to government aid in order to provide for her children and faced heavy criticisms for giving birth to 14 children in the first place, without having enough to provide them herself.
I still am working as hard as I possibly can to support them, she told Today co-host Matt Lauer. I made that call reluctantly. I feel ashamed, but who cares how I feel? It's 100% about my children.
Octomom Nadya Suleman, who posed nude recently for Closer magazine in order to be able to pay her bills and rent out a house for herself and her 14 children, has even received death threats.
The 36-year-old has received death threats after turning to the Government Welfare even though she sounded very adamant in 2010 when she announced she would never take that option.
It has been three years since Suleman grabbed media attention for giving birth to healthy octuplets who set a world record. The single mother has been struggling to make ends meet because she cannot afford to take up a full time job with the responsibility of 14 children.
According to a report, Suleman is now receiving $2,000 per month from Welfare. The state government provides financial support to large families who have earnings of less than $119,000 a year. However, her special debit card is closely monitored by the government to make sure she is making the right use of money, like spending on food and not making any illegal purchases.
The Daily Mail has reported that Suleman is currently taking classes to qualify as a fitness trainer and plans to train people while her children sleep.
© Copyright IBTimes 2023. All rights reserved.