NASA, Verizon Track US Domestic Drone Flights With Cell Towers Under New Agreement: Report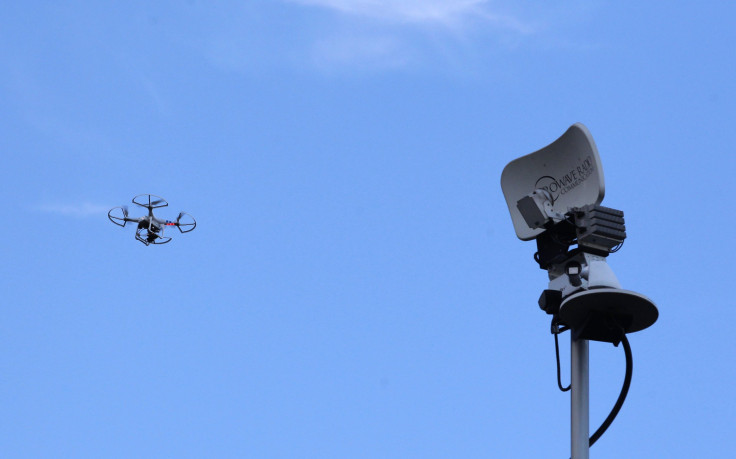 Verizon and NASA are working to develop technology that would utilize the network of cell phone towers throughout the U.S. to track civilian and commercial drones, according to records obtained by the Guardian. The project is currently undergoing testing in Silicon Valley and appears to be the first government effort to monitor private drone flights before they're buzzing over American skies without any major restrictions.
Last year, NASA and Verizon signed an agreement "to jointly explore whether cell towers ... could support communications and surveillance of unmanned aerial systems (UAS) at low altitudes," as quoted by the Guardian. NASA is at work on an air traffic control system that would use radar and orbiting satellites to direct drone flight paths over the United States. Verizon is expected to propose a methodology by 2017 that uses cell coverage to navigate and track drones, according to the Service Agreement obtained by the Guardian.
Update: Verizon spokesman Kevin King clarified in a statement Thursday that the telecommunication company is one of a number of technology companies working with NASA, and asserted that the Guardian article overstated Verizon's involvement with the drone program.
"NASA is experimenting, Verizon is supporting them with our wireless network," King wrote in an email. "Plus, this is a controlled experiment taking place at NASA's testing facility in Silicon Valley. There is no involvement of our network of cell sites throughout the U.S. Again, this overstates the project and Verizon's involvement."
King also said "there is no expected deliverable or 2017 deadline for any plan."
For over a year now, the Federal Aviation Administration has been criticized for being too slow to issue regulations on how the public should be allowed to use drones. The agency released its commercial drone proposal earlier this year (no flying above 500 feet, above 100 mph or flying over populated areas), though those have done little to calm fears about unauthorized flying. In fact, there's been so much outside interest that the FAA announced Wednesday it plans to hire a drone czar to coordinate relations with the UAS industry.
The agreement between NASA and Verizon is "exploratory" because "the requirements and technology paths [for commercial drones] have not been clearly defined by the FAA." The current air traffic control grid is already crowded without drones, and radar technology is largely ineffective when aircraft fly at 500 feet or below.
As with any technology related to drones, there are questions about the privacy implications. But concerns about Verizon and NASA tracking private drone owners seem to be outweighed by the notion of anyone being able to use their own drone to harass or stalk someone else.
"I don't see a privacy problem with leveraging cell towers," Ryan Calo, a professor on cyberlaw and robotics at the University of Washington, told the Guardian. "If a centralized place is keeping track of these things, we would have some accountability. I don't believe anybody thinks we should have anonymous drones the way we should have anonymous web surfing."
© Copyright IBTimes 2023. All rights reserved.