National Coffee Cake Day 2021: Simple Recipe Of The Cult Favorite Using Blueberry
Of all things people love by the side of their cup of joe, coffee cake reigns supreme. The heavenly aroma and the taste are the factors that make the snack irresistible.
On the whirlwind weekends filled with amazing desserts, coffee cakes take the center stage and drive people bananas when they are topped with toasted hazelnuts and crunchy M&Ms.
Coffee cakes, contrary to what the name suggests, don't contain any coffee. A basic coffee cake is just enough to send the taste buds into overdrive. But, incorporating some offbeat flavors into the cult favorite can make the holiday so much better.
The rectangular or square-shaped treats are flavored with cinnamon or other spices and served with crumb toppings or a glazed drizzle. They are oftentimes also topped with fruits and nuts and seeds to enhance the appeal.
National Coffee Cake Day is celebrated on April 7 every year to honor the detectable sweet treats.
Celebrate this National Coffee Cake Day by trying out one amazing recipe, using blueberries, to give your heart profound pleasure. (Courtesy: allrecipes.com)
Ingredients:
1 cup softened butter
2 cups of white sugar
2 whole eggs
1 cup sour cream
1 teaspoon vanilla extract
1 ⅝ cups all-purpose flour
¼ teaspoon salt
1 cup blueberries (fresh or frozen)
1 teaspoon cinnamon (ground)
½ cup chopped pecans
1 tablespoon confectioner's sugar for dusting
Procedure:
Preheat oven to 350 degrees F (175 degrees C). Take a 9-inch baking pan and grease it with oil or butter before sprinkling flour to make sure the cake doesn't stick to the base. Take a large bowl and combine the butter and sugar and beat until fluffy. Add in the eggs one at a time and then stir in the sour cream and vanilla extract. Add the flour, baking powder, and salt and mix well. Fold in the blueberries with the help of a spatula.
Now, spoon half of the batter into the prepared pan. Take a small bowl and combine the brown sugar, cinnamon, and pecans. Sprinkle half of the brown sugar mixture over the batter, place it on the pan and top it with the remaining batter. Swirl the sugar layer into the cake with the help of a knife or a fork.
Pop the batter into the oven and bake for 55-60 minutes. Dig in a cake tester or a knife to see if comes out clean. Now let cool the cake in a wired rack and when completely cool, remove the cake from the pan by inverting it into a serving plate. Dust the top of the cake with the confectioner's sugar before serving.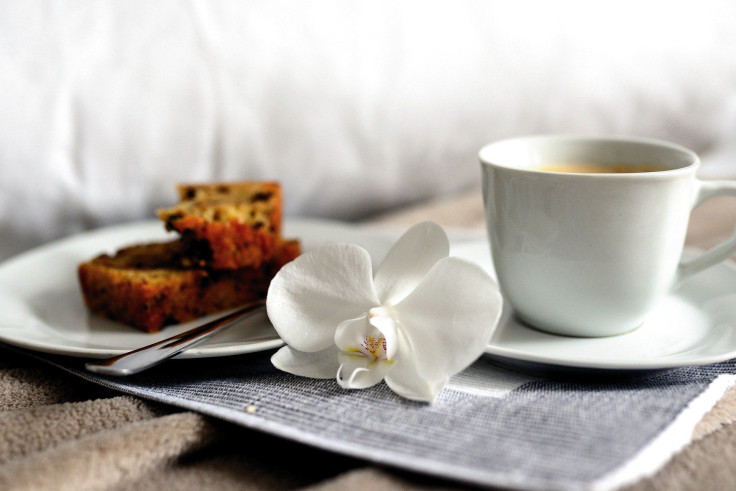 FOLLOW MORE IBT NEWS ON THE BELOW CHANNELS