National Coming Out Day 2015 Quotes: 17 Inspiring Sayings Celebrating LGBT Life And Being Yourself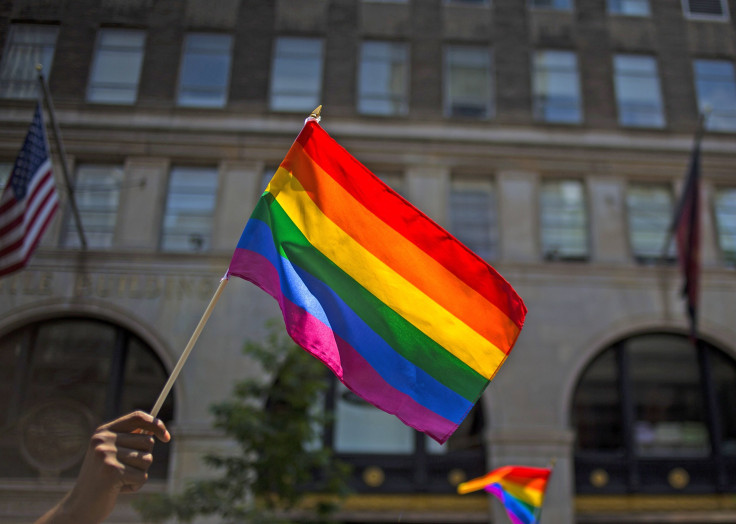 Sunday marks National Coming Out Day, an annual celebration of people who have come out as lesbian, gay, bisexual or transgender (LGBT) or other, and their allies. Started in 1988, the holiday is a chance for people everywhere to discuss civil rights and connect with peers inside and outside their communities.
If you're considering coming out, you're not alone. About 2.3 percent of Americans identified themselves as gay or bisexual in a National Health Interview Survey from last year, Reuters reported. Another 1.1 percent said they were "something else" besides those two options, or straight or did not want to answer.
On National Coming Out Day 2015, revel in being yourself by reading these famous words, collected from Goodreads, Quotesome Blog and BrainyQuote:
"The only queer people are those who don't love anybody." -- Rita Mae Brown
"Gender preference does not define you. Your spirit defines you." -- P.C. Cast
"Laugh and cry and tell stories. Sad stories about bodies stolen, bodies no longer here. Enraging stories about the false images, devastating lies, untold violence. Bold, brash stories about reclaiming our bodies and changing the world." -- Eli Clare
"Be yourself. You're OK. And it really doesn't matter what other people think." -- Taylor Schilling
"There is only one you for all time. Fearlessly be yourself." -- Anthony Rapp
"Your harshest critic is always going to be yourself. Don't ignore that critic, but don't give it more attention than it deserves." -- Michael Ian Black
"To be yourself in a world that is constantly trying to make you something else is the greatest accomplishment." -- Ralph Waldo Emerson
"You are you. Now, isn't that pleasant?" -- Dr. Seuss
"The really important thing to be was yourself, just as hard as you could." -- Neil Gaiman
"Understand that sexuality is as wide as the sea. Understand that your morality is not law. Understand that we are you. Understand that if we decide to have sex whether safe, safer or unsafe, it is our decision, and you have no rights in our lovemaking." -- Derek Jarman
"What people do in their own homes is their business, and you can choose to love whoever you love." -- Jay-Z
"Follow your inner moonlight; don't hide the madness." -- Allen Ginsberg
"Never dull your shine for somebody else." -- Tyra Banks
"The world is not divided into sheeps and goats. Not all things are black, nor all things white. It is a fundamental of taxonomy that nature rarely deals with discrete categories. Only the human mind invents categories and tries to force facts into separated pigeonholes. The living world is a continuum in each and every one of its aspects. The sooner we learn this concerning sexual behavior, the sooner we shall reach a sound understanding of the realities of sex." -- Alfred Kinsey
"Race, gender, religion, sexuality -- we are all people, and that's it. We're all people. We're all equal." -- Connor Franta
"Be yourself; everyone else is already taken." -- Oscar Wilde
"Openness may not completely disarm prejudice, but it's a good place to start." -- Jason Collins
© Copyright IBTimes 2023. All rights reserved.
FOLLOW MORE IBT NEWS ON THE BELOW CHANNELS