National Dog Show 2014: When And Where To Watch On TV, Live Stream For 13th Annual Thanksgiving Day Special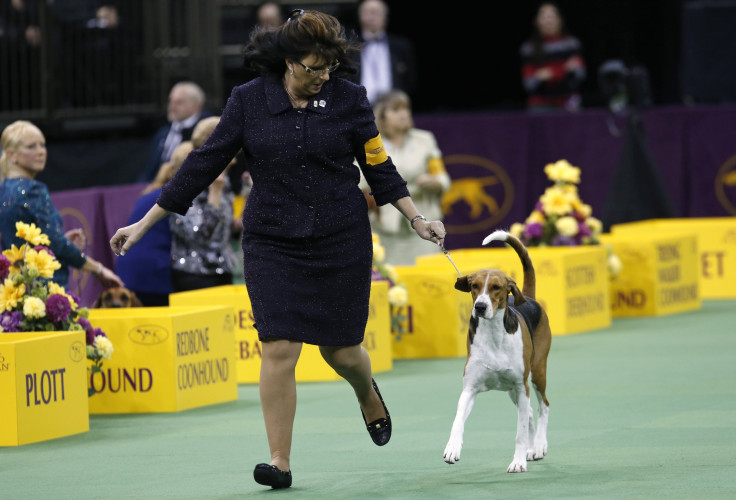 The 2014 National Dog Show will provide an alternative for overstuffed families who want to watch something other than football on Thanksgiving Day. The Kennel Club of Philadelphia's 13th annual event will air Thursday at noon on NBC in all time zones, right after the Macy's Thanksgiving Day Parade.
John O'Hurley, best known for his recurring role on the legendary sitcom "Seinfeld," will return to host the National Dog Show for the 12th straight year. David Frei, an American Kennel Club-licensed judge, will return alongside O'Hurley to serve as a co-host and analyst.
"Twelve years of doing this holiday special has given my family a wealth of knowledge about God's great creatures and I am not shy about letting everyone know that the National Dog Show is my favorite day of the year," O'Hurley said in a press release. "And when I see a dog on any street in America, it will always give me a little wink of recognition. It has become a treasured Thanksgiving Day tradition, nearly as old as my hair."
This year's field consists of more than 2,000 dogs from more than 190 American Kennel Club-approved breeds. Winners of the Best in Breed distinction advance to compete for honor of First in Group. The seven winners of First in Group honors in the Herding, Hound, Non-Sporting, Sporting, Terrier, Toy and Working Groups will then compete for the prestigious title of Best in Show.
Aside from the bragging rights associated with the honor, $20,000 in prize money will be at stake. In 2013, an American Foxhound named Jewel took home Best in Show honors.
The 2014 National Dog Show will also feature two new breeds – the wirehaired vizsla, which will compete in the Sporting Group, and the Coton de Tulear, which will compete in the Non-Sporting Group. The event is open to any American Kennel Club-approved dog. In addition, the National Dog Show is one of the few remaining "benched" dog shows, meaning that all contestants can be viewed in person by the public.
This year's event actually took place from Saturday, Nov. 15, through Sunday, Nov. 16, but it will not be broadcast to the public until Thanksgiving Day. A 2014 National Dog Show live stream is available through NBC Sports' Live Extra streaming service or by plugging your television provider information into Hulu. In addition, dog lovers can tune in to NBC for an encore presentation on Saturday at 8 p.m. ET.
© Copyright IBTimes 2023. All rights reserved.