National Doughnut Day 2018: 7 Easy Homemade Donut Recipes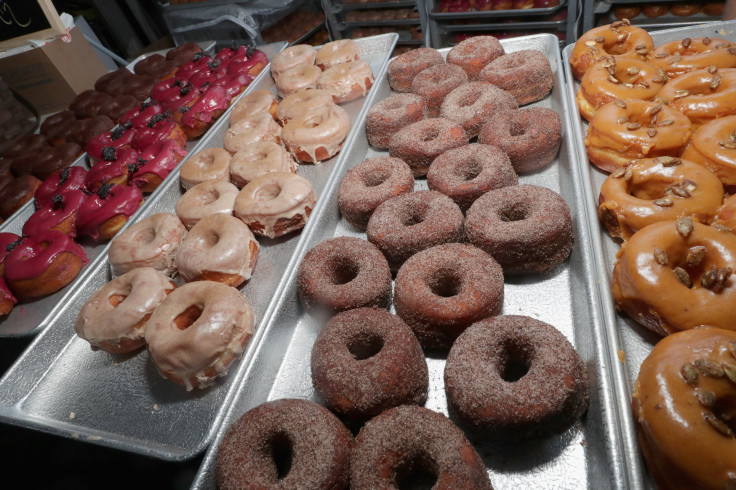 It's time for a sugar rush! Friday, June 1 is National Doughnut Day, and while many will be rushing to their local coffee shop or bakery to celebrate, you can make the treats yourself. A few bakers have released recipes that are easy for even the most inexperienced doughnut makers.
1. Classic Chocolate Frosted Doughnut: It's nothing outrageous, but it's a standard for a reason — it's delicious! Butter With a Side of Bread has an easy 15-minute recipe that only requires butter, milk, corn syrup, chocolate chips, sugar, canola oil and a package of biscuit dough. You'll be in a sugar coma in no time.
2. Powdered Doughnut: This version from AllRecipes takes under 20 minutes. However, it does require a donut cutter. If you don't have that tool in your kitchen, you can use a regular glass and a shot glass instead.
3. Boston Cream Doughnut: Don't let the time commitment scare you. The only reason it's a three-hour process is because the dough has to rise (meaning you leave it alone for a while). This New York Times recipe is long but easy to follow. It also tells you how to inject the pastry cream without any fancy tools.
4. Churro Doughnut: This Bigger Bolder Baking recipe is baked, not fried, and baker Gemma Stafford even has a way to make your own donut tin with a cupcake tin rather than buying another tool. This cinnamon-covered confection takes less than an hour to make.
5. Voodoo's Maple-Bacon Doughnuts: Voodoo Doughnuts knows what they're doing. The artisan chain's shops in Portland, Austin, Denver and more have become hot spots because of their delicious creations. This doughnut recipe, shared by "Donut Nation" author Ellen Brown, uses bacon grease in both the frosting and the dough.
6. Jelly Doughnuts: This donut recipe from Taste of Home is very specific, but it is pretty easy to follow. Though it requires 45 minutes to let the dough rise, you'll only be doing work for 30 minutes.
7. Apple Cider Doughnuts: If summer isn't your favorite season, this donut will make you feel like fall is around the corner. This easy recipe from Food Network only takes an hour, and it's baked instead of fried. However, it does require four donut tins for baking.
© Copyright IBTimes 2023. All rights reserved.