National Fried Chicken Day: Best Deals And Famous Quotes About The Dish
Does the image of a spicy, crunchy and juicy fried chicken make your mouth water? If yes, then National Fried Chicken Day is an event that you should be excited about.
Celebrated every year In the United States on July 6, National Fried Chicken Day gives chicken lovers an opportunity to feast on their favorite dish at a nearby restaurant, or home. What makes the day better are the exciting deals that restaurants across the country offer.
Let's look at some of the best deals you can find on this day –
Chipotle – The restaurant has partnered with the White House's National Month of Action for Vaccinations to offer a buy-one-get-one-free deal on this day.
Taco John's – You can get a free Friend Chicken Taco if you made a purchase through their official app.
Jollibee – Get a free Peach Mango Pie with every order placed through their app. Use the code "JoyOnline" to avail the offer.
Pollo Campero – You can get a 50% discount on family meals by using the code "NFCD21" by placing the order through their website or mobile app.
Here's what some famous people have said about the dish, courtesy AZ Quotes:
"I think no matter what the occasion may be, you can never go wrong by showing up at the dinner table with a hot plate of fried chicken." – Paula Deen
"You don't know what the pattern of flour and chicken is going to be, but you know you're going to get some good fried chicken." – Ben Affleck
"In order to have good fried chicken, you should wash and season the bird the morning you're preparing it for dinner. Don't wait and do it right before you start cooking. Throw it in the refrigerator, seasoned, that morning, and give it a chance to soak up all the salt and pepper and goodness." – Paula Deen
"Obviously as I'm getting older, I'm seeing changes in my body that I may not like... but I do love food, and I'm from the South. I'm not gonna lie, I eat fried chicken, I love macaroni and cheese, and I love grits." – Eri Andrews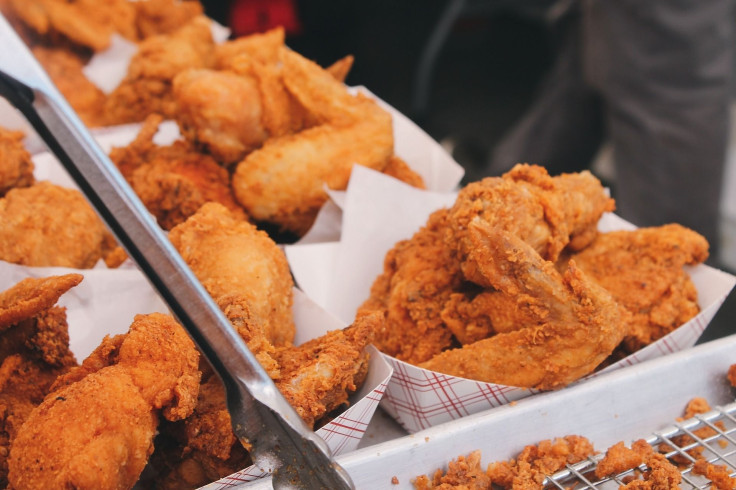 © Copyright IBTimes 2023. All rights reserved.