National Native American Heritage Month: Fun Facts About Why We Celebrate In November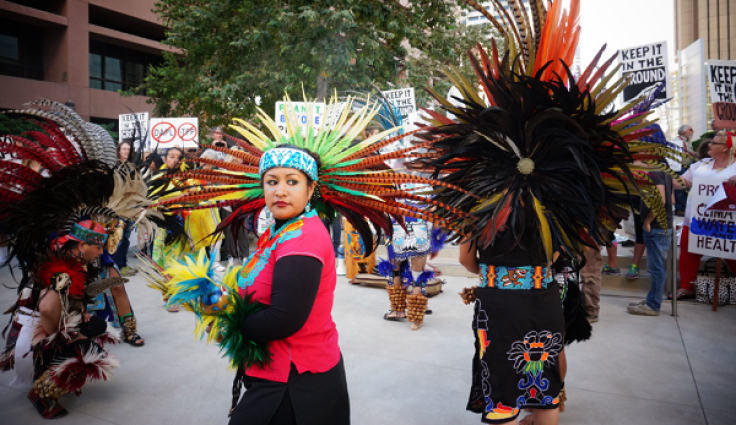 Long before the Pilgrims came ashore in the United States, there were Native Americans who roamed and ruled the lands of the country. Starting Tuesday, residents across the U.S. will celebrate the rich and diverse culture of the 3.2 million Native Americans living in the country while recognizing all of the historical sacrifices they've made in the country during National Native American Heritage Month.
The month-long holiday is a time to pay homage to the many contributions Native American people have provided since settlers first arrived stateside on the Mayflower in 1620 and recognize the many lives and tribes that were tragically lost during U.S. advancement.
The observance also serves as an opportunity to educate Americans about the various Native American tribes that have graced U.S. land while raising awareness about the many challenges Native Americans have faced.
Although National Native American Heritage Month only came about within the last 26 years, people have been fighting for national recognition for the culture's historical legacy since the 1900s. That's when Arthur Caswell Parker, a Seneca Indian and director of the Rochester Museum in New York, proposed a day to celebrate American Indians. It took some time and help from a few other Indian rights activists, but the first American Indian Day was finally recognized in New York in May 1916.
Several states joined New York with their own recognition of American Indian Day over the next few decades, and finally, in 1990, President George H. W. Bush declared the entire month of November National Native American Heritage Month. It's also referred to as American Indian Month and Alaska Native Heritage Month, according to the website.
During the 30-day celebration, many states will host events to honor Native American culture, including festivals, performances, dances and panels aimed at educating people about history, principles and practices.
There are tons of ways to celebrate Native Americans during the month individually, too.
Chow down on some traditional dishes like sweet potato soup, pemmican and prairie turnips, fish and cattails, and tanshpashofa while listening to classic hymns and songs by famous Native American musicians like Annie Humphrey, Buffy Sainte-Marie, Shelley Morningsong and Steven Rushingwind. Or study up on the plight of Native Americans by reading books by renowned Indian authors like Leslie Marmon Silko, Sherman Alexie and Louise Erdich.
Check out the website for National Native American Heritage Month here.
© Copyright IBTimes 2023. All rights reserved.