National Oreo Day 2015: Easy Recipes, Facts, History Of The Beloved Sandwich Cookie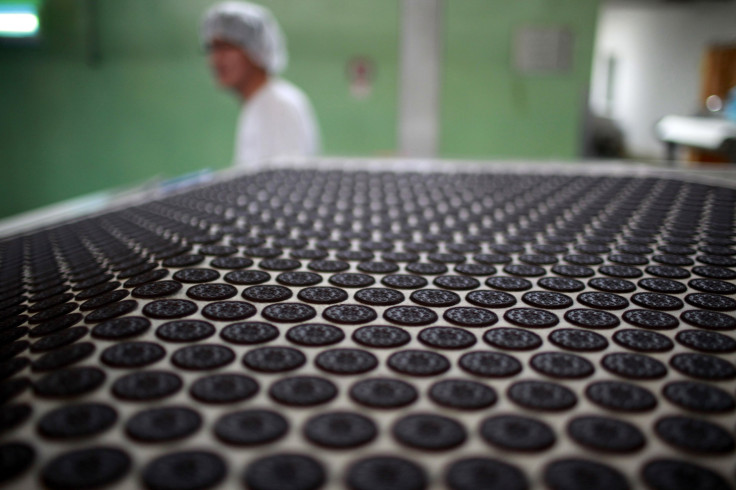 Friday marks National Oreo day, a celebration of the popular sandwich cookie comprised of two chocolate discs glued together with white cream. In the century since its creation, the Oreo has become a household name and product, a staple in afterschool snacks and certain lavish dessert recipes.
The very first Oreo dates back to 1912, when the National Biscuit Company, now known as Nabisco, created the Oreo Biscuit in Chelsea, in New York City. Different iterations on the name followed, like Oreo Sandwich and Oreo Creme Sandwich. Since 1912, more than 450 billion Oreo cookies have been sold.
Today, the Oreo can be bought in more than 100 countries, some of which have their own special flavors, like green tea ice cream Oreos in China. In the U.S., Red Velvet is the current special edition of the Oreo; the next is expected to be the S'more Oreo, which could come out a few months from now.
Over time, Oreos have also come to occupy a notable role in baked goods, in everything from cheesecakes to milkshakes. To celebrate the occasion and more than 100 years of Oreos, here are a few Oreo-inspired classic and innovative recipes to indulge in.
Any venue that claims to specialize in desserts these days pretty much has to offer something with Oreos. Oreo cheesecake is a popular find, so here are recipes for cheesecake squares and a full cake that you can make yourself. Kids will like this Oreo milkshake, or these Oreo cookie balls, which are like truffles made with Oreos and are supposed to be ridiculously easy. Meanwhile, these decadent brownies may change your life with its layers of brownie, oreo and cookie dough.
Then there are the recipes that really take Oreos to the next level, like Oreo cookie butter, Oreo pancakes or Oreo nutella frappuccinos. Finally, some believe that everything tastes better homemade, although Oreos might put that saying to the test. For those who want to find out, here's a recipe to make your own Oreos.
© Copyright IBTimes 2023. All rights reserved.