National Spaghetti Day 2021: 12 Facts You Didn't Know About This Pasta
KEY POINTS
National Spaghetti Day is celebrated by Americans every year on Jan. 4
Spaghetti gained popularity in the country after WWII when American soldiers demanded its presence in the market
There are over 310 confirmed types of pasta
The love for spaghetti transcends any culture, so it comes as no surprise that there is a National Spaghetti Day to celebrate this pasta. Although the origins of the noodle dish are still disputed to this day, most would agree that a bowl of spaghetti can feed not only the stomach but the heart as well.
To celebrate National Spaghetti Day, held every Jan. 4, here are 12 spaghetti and pasta facts that you might not have known.
1. An ode to pasta
The oldest recorded documentation of pasta is found in the writings of Roman poet Quintus Horatius Flaccus in the 1st century B.C., referring to sheets of dough called lagana.
2. Production origins
In the 12th century, the production of spaghetti began in Sicily, Italy — almost a thousand years ago.
3. World War II
One of the most important times in the history of spaghetti was WWII when American soldiers came in contact with European cuisine and demanded the presence of spaghetti in the market once they returned home.
4. Big bowl of pasta
The largest-ever bowl of spaghetti was created in 2010 when California restaurant Buca di Beppo managed to fill one swimming pool with more than 6,251 kilograms of pasta and 100 gallons of marinara sauce, according to BBC.
5. For the love of spaghetti
The world's biggest importers of pasta today are the U.S., Germany, the U.K. and France.
6. 4,000-year-old leftovers
In 2005, Chinese scientists were able to unearth a 4,000-year-old bowl of noodles at the Lajia archaeological site in China, National Geographic reported.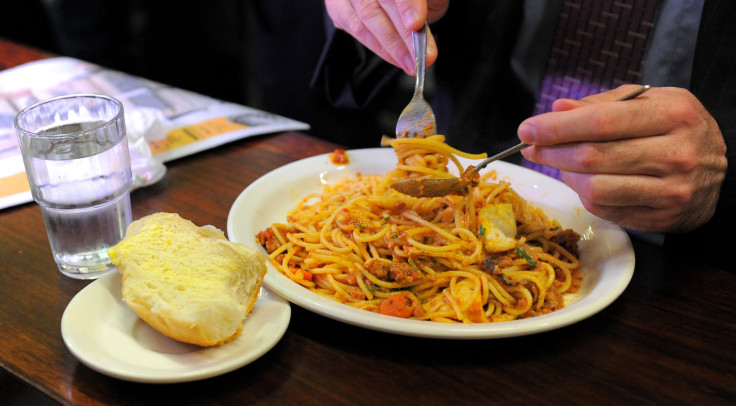 7. Noodle or pasta?
Many Americans use the term "noodles" to refer to pasta, adding to the confusion. And in Europe, there are many dishes where it's hard to tell where the starch ribbons involved fall on the noodle-pasta spectrum.
8. American spaghetti
The first-ever American factory for spaghetti production was established in Brooklyn, New York, in 1848.
9. Delizioso!
According to the International Pasta Organization, the average Italian eats more than 23 kilograms of pasta every year.
10. Pasta-bilities
The combination of tomato juice and spaghetti was printed for the first time in 1790 in Italian chef Francesco Leonardi's cookbook "L'Apicio moderno" ("Modern Apicius").
11. Pass the pasta
When the 20th century began, spaghetti evolved into a more American style — prepared and served with basil or oregano.
12. More than one type of pasta
There are currently over 310 confirmed types of pasta, according to History of Spaghetti. They are known by over 1,300 names.
© Copyright IBTimes 2023. All rights reserved.