National Tapioca Day 2021: 6 Delicious Recipes To Try
National Tapioca Day, celebrated every June 28, is an excellent opportunity for tapioca lovers everywhere to celebrate and enjoy the delicious carb.
For those who aren't familiar with tapioca, it's a starch that's made from cassava root. It's almost "pure carbs" and has very little fiber, protein or other nutrients. It has recently become popular for it can be a gluten-free alternative to grains.
It can be sold as flour, flakes or pearls, with the latter being the most common form that's typically used in desserts.
Food-related holidays are always good opportunities to try the food being celebrated with new variations of it. National Tapioca Day is no exception. To celebrate the holiday, let's have a look at some recipes with tapioca that you may want to add to your recipe book today.
Classic Tapioca Pudding
Those who haven't tried tapioca before may want to begin with a classic tapioca pudding. This recipe from All Recipes is very simple and only requires ingredients such as milk, eggs, vanilla, salt, sugar and. This recipe helps create the classic and creamy dish quickly.
Purple Sweet Potato Steamed Cake
Those who are a little more experienced in the kitchen can try making Talam Ubi Ungu or purple sweet potato steamed cake. For this recipe from Cookpad, you will need ingredients such as sweet purple yam, instant coconut milk and rice flour. The tapioca element will come in the form of tapioca flour. The batter made from these ingredients will be poured into little molds and steamed to create delicious purple cakes.
Chai Tea Infused Tapioca Pudding
Tea-based beverages with tapioca pearls have certainly made a come-back, and this gluten-free vegan recipe from The Conscious Dietitian puts a twist to the popular drink. With ingredients such as chai tea, ginger, cinnamon, honey and sea salt, chai tea lovers will certainly enjoy their favorite drink in a whole new way.
Milk Tea With Tapioca Pearls Ice Pops
Another way milk tea lovers can enjoy tapioca is by creating milk tea ice cream. This recipe from Chowhound is perfect for summer weather since it makes six servings of refreshing milk tea ice pops with chewy tapioca pearls in between. As such, you can simply pop them in the freezer and enjoy when the weather gets too hot.
Vegan Vanilla Coconut Tapioca Pudding
Those who already love a good tapioca pudding but want to try a rather new twist to it may want to try this vegan recipe from Neurotic Mommy. It uses dairy-free milk and coconut milk for that creamy taste, and maple syrup, vanilla and cinnamon for a rich flavor.
Savory Tapioca Balls
Tapioca is perfect for dessert, but it can also be used to create for savory snacks. This Cilok or savory tapioca balls recipe is easy to make and requires ingredients such as tapioca flour, egg, garlic, vegetable stock powder and onion. Once formed into little balls, they have to be boiled in water until they float. It can then be enjoyed, whether warm or cold, with sweet soy sauce and sriracha.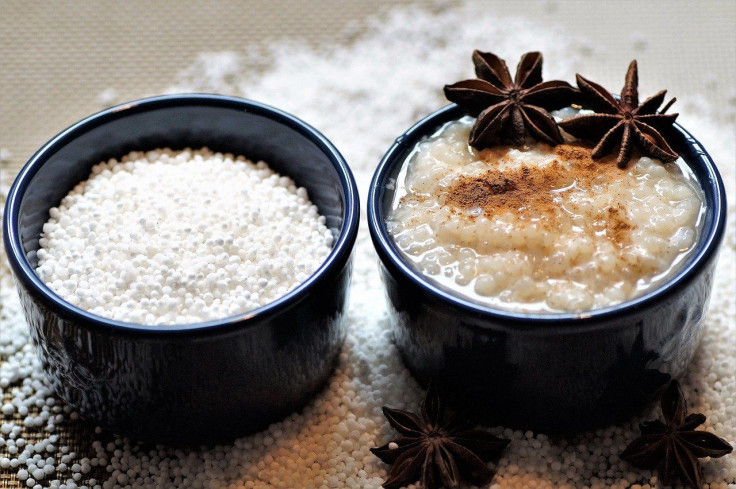 © Copyright IBTimes 2023. All rights reserved.