National Vodka Day 2016: 10 Easy Cocktail Recipes To Try During Drinking Celebration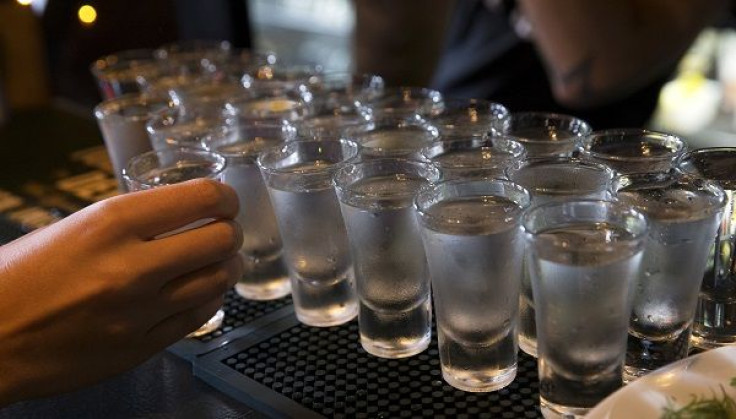 Tuesday is National Vodka Day! Whether you are all about a dry martini or like it on the rocks, vodka is a popular pick. The celebration of this day started back in 2009 and encourages people to go out and enjoy some vodka.
Vodka is made from the distillation of fermented foods like potatoes, grains and at times fruits or sugar. Also known as "the water of life", vodka has become one of the most popular alcohols in North America.
Whether you are celebrating this day by hanging with friends or plan to stay in, below are 10 vodka cocktail recipes that you should try.
1. Red, White and Blue Vodka Lemonade Slush
It may not be July 4. but if you are feeling patriotic try out this frozen beverage. With simple ingredients like grenadine, blue curacao and lemonade this will surely be the ultimate pick me up after a long day.
2. Cosmopolitan
This easy recipe takes only five minutes to make. If you don't want your drink to be on the strong side, be sure to add some extra cranberry juice.
3. Vodka and Limoncello Sangria with Raspberries
With the addition of fresh fruit and prosecco, make a pitcher and share the wealth.
4. Blackberry Crush
This fruity drink will brighten up your day with sweet blackberries and a refreshing mint sprig.
5. Apple Pie on the Rocks
In the mood for dessert? Try out this apple pie inspired drink that will quench your thirst and satisfy your sweet tooth.
6. Vodka Soda
A quick and easy drink that will have you skipping happy hour and heading home to be your own bartender.
7. Skittles and Vodka Slushie
If you are a fan of Skittles candy then you will love this adult beverage. You will have to take some time to separate the candy by color but you certainly won't regret it after you take your first sip.
8. Cucumber Cape Codder
Cucumber infused anything is delicious so this drink will not disappoint you or your taste buds.
9. Coffee Infused Vodka Buzz Bomb
With ingredients like brown sugar, vanilla bean and cocoa nibs, this delicious drink will have you going back for seconds.
10. Screwdriver
Thanks to a spin on the popular breakfast drink, you will be delighted to indulge in this tasty beverage.
Cheers to National Vodka Day! Please be sure to drink responsibly.
© Copyright IBTimes 2023. All rights reserved.