Negativity Toward 'Call Of Duty' Franchise 'Has Virtually Evaporated,' Says Activision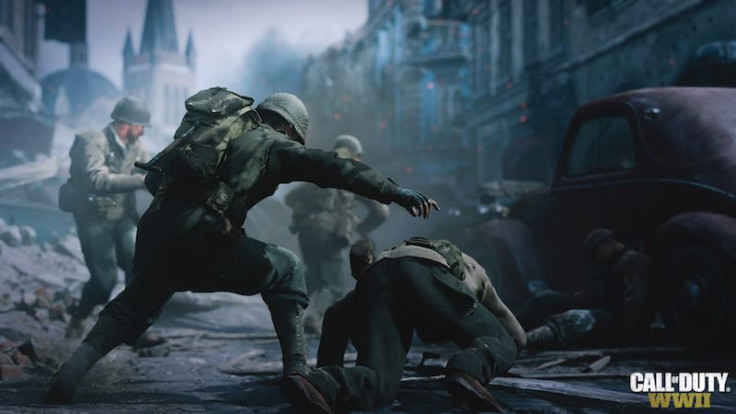 Activision recently held a conference call with analysts and investors and talked about the fan reaction to "Call of Duty: WWII." Executives from the video game publisher/developer said that the negative social media reception to the "Call of Duty" franchise "has virtually evaporated," and that pre-orders have gotten off to a "very strong start."
Activision claims that the reveal trailer for "Call of Duty: WWII" is the most liked trailer in the history of the franchise. The trailer is also the fastest in the franchise to gain 10 million views in one day. Activision Blizzard CEO Bobby Kotick said that the "negative social media sentiment, which was an issue last year, has virtually evaporated."
"We also set a new high watermark with the views of the live stream. That's both for 'Call of Duty' and for Activision overall," Kotick told investors, as per GameIndustry.biz. "And the livestream also was extremely positively received, with a 95% like to dislike ratio."
Since the announcement of last year's "Call of Duty: Infinite Warfare," fans of the franchise weren't so kind to the game and Activision. The reveal trailer for "Infinite Warfare" officially became the second-most disliked video on YouTube in just 15 days with over 3 million thumbs down votes.
"Infinite Warfare" still did fine in terms of sales, and it even topped the charts as the best-selling game of 2016 beating EA's highly acclaimed World War I shooter "Battlefield 1." However, "Infinite Warfare" still underperformed in all of Activision's key markets.
"Call of Duty: WWII" might finally be turning things around for the company as Activision COO Thomas Tippl told investors that "pre-orders are off to a very strong start." "When Activision greenlit this game more than 2.5 years ago, the team knew it was time to return the franchise to its roots," Tipple added.
"Call of Duty: WWII" has been heavily marketed as a return to the "boots on the ground" gameplay that the franchise was originally known for. The last three entries in the franchise, 2014's "Advanced Warfare," 2015's "Black Ops III" and last year's "Infinite Warfare," took the game to more futuristic types of gameplay adding boost jumps, wall running and entirely fictional story.
"Call of Duty: WWII" is set during the Second World War from 1944 to 1945. The campaign will take players all over Europe as they march toward Germany. The very first "Call of Duty," which came out in 2003, was also set in World War II. The last game in the franchise that was set in WWII was 2008's "Call of Duty: World at War."
Along with returning to the roots of the franchise, "Call of Duty: WWII" will also introduce some changes to its gameplay. The game's Campaign for example won't feature health regeneration, a system that has been present in the series since 2005's "Call of Duty 2."
Activision will fully reveal the online multiplayer of "Call of Duty: WWII" during this year's E3 conference in Los Angeles, California in June. EA, which is currently busy with "Star Wars Battlefront 2," won't be dropping any major "Battlefield" news at E3 2017 apart from announcing DLCs, leaving the "historical shooter" market wide open for Activision, as pointed out by Game Rant.
© Copyright IBTimes 2023. All rights reserved.
FOLLOW MORE IBT NEWS ON THE BELOW CHANNELS