Nepal Earthquake 2015: Aftershocks Devastate Nepal's Tourism Industry, Everest, Unesco Sites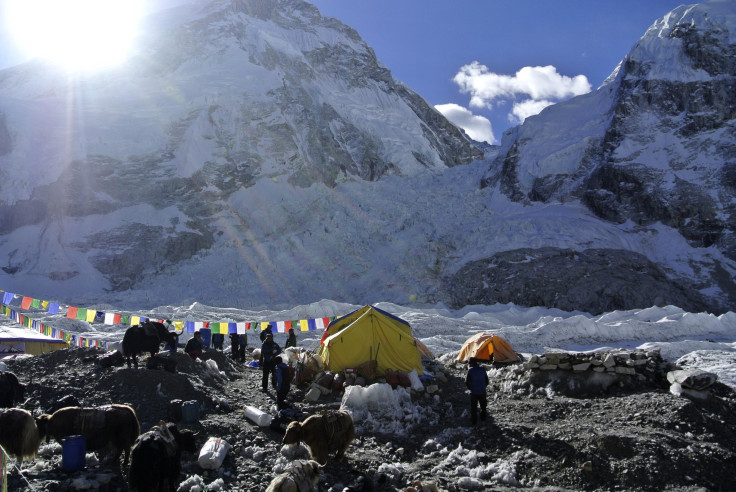 Finding the millions of dollars needed to rebuild and help survivors recover from Saturday's earthquake will be particularly challenging for Nepal because the catastrophe that killed more than 3,200 people has also devastated the country's crucial tourism sector.
Nepal attracts nearly 1 million foreigners each year who flock to the country's World Heritage sites, UNESCO monuments, countless Buddhist and Hindu temples and, of course, its majestic mountains, including the legendary Everest. But tourism took a hit in 2014 after a Himalayan snowstorm in October killed at least 43 people, including 21 trekkers. And an avalanche on Mount Everest killing 16 local Sherpas last April resulted in the unofficial cancellation of the climbing season after guides protested the government's failure to protect them.
Saturday's earthquake, which has devastated the country's infrastructure and killed thousands, including 17 people on Everest in an avalanche set off by the quake, dealt the final blow to the country's already-fragile but critical tourism industry.
"In the short term, Nepal is going to see its tourism fall to near zero levels," travel industry analyst Henry Harteveldt told International Business Times by phone. "The devastation appears to be so widespread and extensive, it's understandable."
One of the world's poorest countries, Nepal is an agricultural nation that relies on tourism to boost its economy. More than 8 percent of the country's $19.29 billion GDP in 2013 came from its tourism industry, the World Travel and Tourism Council reported. Foreign exchange earnings from tourism accounted for about 20 percent of the country's export earnings in 2013, Nepal's Ministry of Culture, Tourism and Civil Aviation said.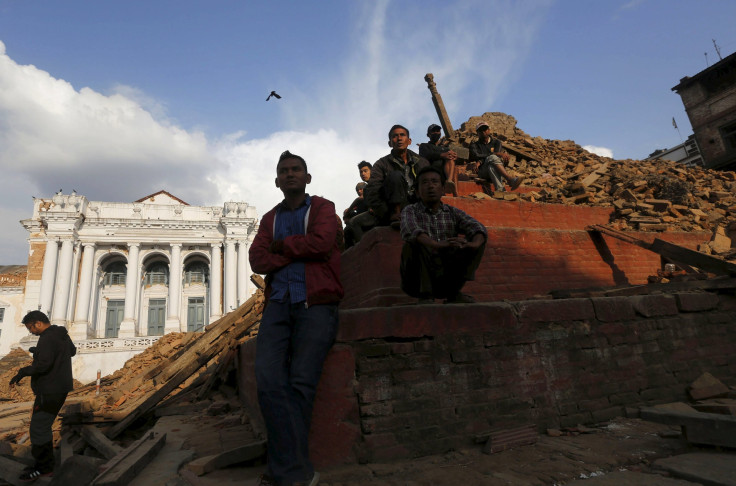 Those numbers are sure to take a hit. After the earthquake, many countries issued travel warnings. The U.S. Department of State urged its citizens to "exercise caution" regarding travel to Nepal, while the British government advised against "all but essential" travel to the country.
Travelers and tour agencies scrambled to cancel or postpone trips. "We have received calls to cancel almost 90 percent of close to 1,000 bookings to Nepal," Sharat Dhall told India's Business Standard. Dhall is president of Yatra, an online travel agency based in India that sends many tourists to the neighboring country.
Intrepid Travel, a global adventure tour operator that sends about 5,000 visitors to Nepal each year, canceled all trips to the country through May 11, at which point it will assess the viability of future tours. The agency is working to get its 20 groups currently in Nepal out of the country safely.
"The cancellations are for logistical reasons right now," Steve Wroe, a manager at Intrepid based in Melbourne, Australia, told International Business Times by phone. "After that, it's assess and see."
Wroe said the country's tourism industry can take small comfort in the fact that the quake hit near the end of Nepal's peak tourism season, which spans from October through May. (Monsoons occur in summer, which is when the bulk of visitors stay away.)
"There will be a lengthy period of rebuilding," Wroe said. "But it's the tail end of the season, so there may be time in the upcoming six months for reconstruction before the next season."
Still, there are concerns about how the quake will affect tourism in the long term.
"As I look at the photos, with so many UNESCO World Heritage sites damaged or, in some cases, destroyed, I wonder whether Nepal will be able to maintain its appeal to visitors," Harteveldt said. "Certainly, trekking and climbing Everest will be popular, but I wonder if we will see as many people opt to do these activities? I don't think we'll know the answers for several months, at least, because we will need to see progress with the recovery. Right now, it's triage."
But Wroe, who has led many tours himself in Nepal, said many tourist sites were able to withstand long-term damage. "The main sites in Kathmandu are very, very sturdy. Boudhanath, a World Heritage site in Kathmandu, is quite a stable structure. It's relatively unscathed."
Much of the rebuilding will result in more stable buildings and infrastructure that will benefit tourism in the long run, Wroe said. Some of those infrastructure upgrades were long overdue.
"In the long-term, the industry is going to rebound. I think mountaineers and walkers appreciate that it is a risky business going up into these areas. They probably think these [natural disasters] don't happen every year, so they will think it's safe enough," Peter Goddard, managing director of TRI Consulting in Dubai, told GulfNews.com.
In the meantime, aid workers rushing to the region may help supplant some of the lost income local businesses will face as tourism disappears. "No doubt there will be a lot of people who want to contribute to the recovery and help rebuild," Harteveldt said. "There's hope the country may recoup some of its lost tourism revenue through these well-wishers' efforts."
Shenpenn Khymsar, a filmmaker and activist based in Vancouver, is one such well-wisher. Originally from Tibet, Khymsar has lived in Khatmandu and still has many friends there. Khymsar was so horrified by the images he's seen of his beloved Nepal, he's planning a trip in the next two weeks to offer help. Khymsar is crowd-funding to raise money for supplies and other aid.
Not all tourists have been deterred, however. Peter Schryvers, an urban planner from Calgary, Canada, had planned a two-week getaway to Nepal in May, and he does not intend to cancel his vacation unless infrastructure or travel issues make it impossible.
"My first thought was that maybe I shouldn't go," Schryvers said. "After I thought a little more about it, I realized it won't be the same, but it will still be a good experience to go, to help in whatever way I can."
Schryvers said he was planning on waiting a week or so before calling the hotel he booked in Kathmandu to make sure accommodations would still be available. In the meantime, he's contacting aid organizations like Oxfam to see what kind of work he might be able to do while he's on the ground there.
"Natural disasters are a double whammy for places like that because they lose the tourism too," Schryvers said. "Part of helping is going to restaurants and hotels and spending money. They need money to keep their economy going."
Alain Uy, an actor from Los Angeles who visited Nepal in 2012, said the country made a lasting impression on him. He wants to go back, and he urged other potential visitors to consider it, as well.
"The culture is still going to be there. The food is still going to be there. The history is still going to be there," Alain said. "You can't shake the core of that culture. It's still going to be a vibrant, amazing, hospitable place."
© Copyright IBTimes 2023. All rights reserved.