Nepal Earthquake 2015: Man Survives 82 Hours Under Rubble, But Officials Say Few Survivors Remain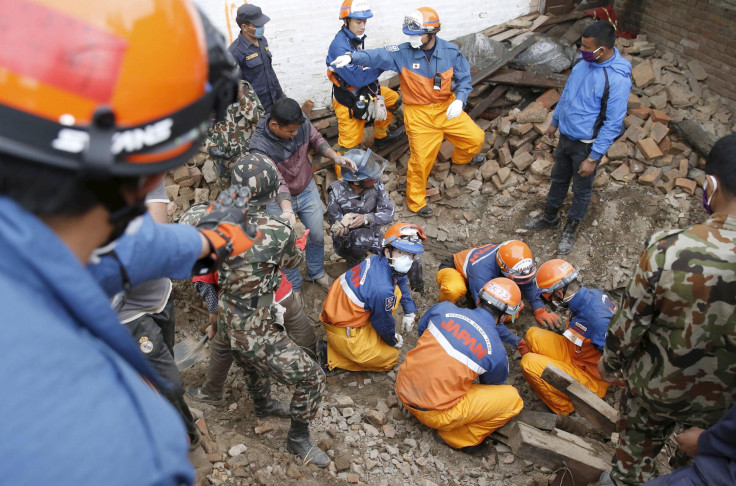 Rishi Khanal spent 82 hours underneath a collapsed hotel in Kathmandu, Nepal, the site of a devastating earthquake that has left thousands dead and many others homeless, before rescue workers plucked him from the debris Wednesday. His foot was crushed and he was surrounded by dead bodies, the Associated Press reported. He is just one of about 13 people found alive by international search and rescue teams so far.
"My nails went all white and my lips cracked. ... I was sure no one was coming for me," Khanal told the AP. "I was certain I was going to die." Khanal said he drank his own urine to satiate his thirst.
Rescuers continued to pull bodies from underneath fallen buildings Wednesday, four days after a magnitude-7.8 earthquake tore the country apart. Authorities said the window of opportunity for recovering survivors was quickly closing, and that after 96 hours there would be little hope of finding people alive.
Survivors of the deadly quake spent a fourth night sleeping outdoors under tents and tarps, fearing aftershocks that could cause more buildings to collapse. International aid groups have delivered dry food, water and blankets, but such items were often in short supply. Government officials said hundreds of thousands of people were leaving Kathmandu because of food and water shortages but also amid concerns over a lack of order. Panic has set in as city residents fear that aftershocks could topple buildings still standing after the initial quake.
Officials say the threat of landslides and mudslides in the Himalayan foothills is still very real.
© Copyright IBTimes 2023. All rights reserved.