Netanyahu Speech: Israeli Leader Could Boost John Boehner With GOP Conservatives, Temporarily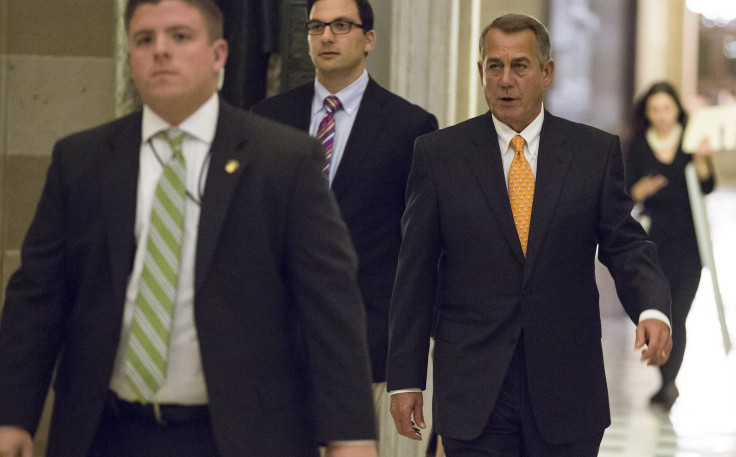 WASHINGTON -- John Boehner needs a win. It's been a tough couple of months for the House Speaker. Tuesday's speech by Israeli Prime Minister Benjamin Netanyahu was designed to be a foreign policy victory for the top Republican -- and a domestic political one as well, showcasing his ability to sideswipe President Barack Obama. But like most situations that Boehner faces these days, Netanyahu's visit is likely to produce drama while failing to resolve any underlying problems.
Since the 114th Congress began in January, Boehner has had a string of bad days. On the first day of the session, a bloc of angry conservatives voted against Boehner to be speaker. He hung onto his job but hasn't had much to show for it. He had to pull an abortion bill because Republicans couldn't agree on the text. The party couldn't get enough votes for a border security bill.
The problems got worse last week. Conservatives remain determined to use funding for the Department of Homeland Security as leverage to force a rollback of Obama's immigration actions. Boehner tried to get a three-week DHS funding extension approved. But after nearly an hour of trying to persuade members on the House floor while voting was still open, Boehner couldn't scrounge up enough support, and the effort failed. He had to settle for a one-week extension.
And almost unnoticed in the chaos of the Homeland Security funding crisis, on Friday Republicans yanked a bill to make adjustments to No Child Left Behind -- a widely criticized law -- because they discovered they didn't have enough votes. Counting votes has become a tricky task for GOP leadership.
The invitation for Netanyahu to address a joint session of Congress was supposed to be a boost for Boehner. It was going to position him as a statesman welcoming a foreign dignitary from a country that enjoys widespread support from the American public. The speech was designed to allow Boehner to oppose President Obama's foreign policy agenda, including the ongoing negotiations with Tehran to try to curb its nuclear program.
"The threat coming from Iran and the Iranians having a nuclear weapon is a threat to the region, it's a threat to the United States, and it's a threat to the rest of the world," Boehner said Sunday on CBS' "Face the Nation." "This is a serious issue and we're not going to resolve this issue by sticking our heads in the sand. The prime minister can talk about this threat, I believe, better than anyone. And the United States Congress wants to hear from him, and so do the American people."
Boehner was going to gain points from his fractured caucus. Conservatives have given strong support to Israel. And Netanyahu, a conservative, has big fans in the right wing of the Republican Party. By inviting Netanyahu without consulting the White House, Boehner could enjoy kudos from his party for sticking it to Obama's Iran policy and to the president himself.
But if Boehner gets 24 hours of coverage from the Netanyahu speech, he'll be lucky.
Most of Washington's attention is centered on the Homeland Security funding fight. Netanyahu will take the floor of the House even as the clock ticks toward the Friday deadline to avoid a DHS shutdown.
The approval Boehner may have garnered from the right wing of his caucus could quickly evaporate. Conservatives are more skeptical than ever about their Speaker. A group of about 20 of them camped out on the House floor Friday night, fearful that leadership was going to trick them and try to put forth a vote for a "clean" bill that would fund DHS without being tied to any demands to undo immigration actions.
There were no tricks, but the scene displayed conservatives' unhappiness with their leader. Rumblings of an attempt to oust Boehner flew through the Capitol. So far, there is no such action underway. But if Boehner does allow a DHS funding bill to hit the floor, any goodwill left from Netanyahu's speech will vanish. Boehner may win one small battle, but he's still fighting a bigger war.
© Copyright IBTimes 2023. All rights reserved.