Netflix Halloween Movies 2018: 24 Family-Friendly Holiday Specials Streaming This October
Halloween is almost here, but those looking for something to watch in honor of the holiday who aren't interested in being spooked don't need to worry. While horror movies tend to rule this time of year, there's plenty of other options for those seeking something a little tamer.
Not everyone enjoys being scared on this spooky holiday, making the need for more family-friendly material crucial. After streaming a bunch of Halloween themed television episodes, it's time to sit back and relax with some Halloween movies and specials that everyone can enjoy. Check out these 24 options when looking for something that puts less emphasis on the trick, but plenty on the treat.
"All Hallow's Eve" (2013):
Instead of summoning the spirit of her dearly departed mother, a charming teen accidentally awakens a vengeful witch who wants to destroy her town.
"Alvin and the Chipmunks Meet the Wolfman" (2000):
In this spooky feature-length movie, Alvin, Simon and Theodore stage a production of "Dr. Jekyll and Mr. Hyde" and things get seriously creepy.
"Annabelle Hooper and the Ghosts of Nantucket" (2016):
While vacationing on picturesque Nantucket, a crafty teenage mystery writer contends with two thieves as she tries to solve a ghostly conundrum.
"A Witches' Ball" (2017):
Beatrix can't wait to be inducted as a witch, but an unfortunate incident threatens to take her pending title away if she doesn't act fast.
"Coco" (2017):
While not technically about Halloween, this film does bring in Dia De Las Muertos and give it the big-screen treatment. The story follows young Miguel who dreams of becoming an accomplished musician despite a generations-old ban on music in his family. Desperate to prove his talent, Miguel finds himself in the Land of the Dead, and with the help of a charming trickster, he embarks on an extraordinary journey to unlock the real story behind his family's history.
"Coraline" (2009):
Curious young Coraline unlocks a door in her family's home and is transported to a universe that strangely resembles her own—only better.
"Dear Dracula" (2012):
When he gets a fan letter from a young monster movie buff, Dracula visits him and soon has a new friend helping him to get his confidence back.
"Girl vs. Monster" (2012):
Teenager Skylar Lewis discovers that her parents have a secret avocation when she innocently releases a cache of monsters in the family basement.
"Little Lunch: The Halloween Story" (2016):
When the class puts on a Halloween play about a boy who leaves behind his friends for a scary new place, it hits too close to home for one student.
"Little Monsters" (1989):
Brian knows there are creatures under his bed. When he faces his fears and confronts them, however, he makes some hilariously weird new friends.
"Mickey's House of Villains" (2002):
The nefarious Jafar has assembled a team of Disney baddies to take over Mickey's House of Mouse and turn it into the House of Villains.
"Monster Family" (2017):
A family's festive Halloween plans take a spooky turn when an evil witch's curse transforms the costumed clan into actual monsters.
"Monster High: Boo York Boo York" (2015):
Cleo is invited to a gala in the big city celebrating a magical comet and brings her best friends along, but the sinister Nefera has other plans.
"Monster Island" (2017):
When a teenager discovers he's not really human, he ventures out to a remote island to explore his roots and confronts a series of wild challenges.
"Monsters vs. Aliens" (2009):
After Susan Murphy is struck by a meteor and grows to be 50 feet tall, she's captured by the government and shuttled to a secret compound.
"Mostly Ghostly" (2008):
After discovering a pair of young ghosts, a nebbish 11-year-old agrees to help the sibling spirits solve the mystery surrounding their demise.
"Power Rangers Samurai Party Monsters" (2011):
On Halloween night, the creepiest creatures from the Netherworld trade war stories about their battles with the Samurai Power Rangers.
"R.L. Stine's Mostly Ghostly One Night in Doom House" (2016):
As Max tries to help ghost pals Nicky and Tara find their parents, he stumbles on an enchanted crystal—and an evil new plot by the phantom Phears.
"Room On The Broom" (2012):
A gentle witch with a ginger braid offers rides to a variety of animals on her increasingly crowded broom, much to her grumpy cat's chagrin.
"Scooby-Doo" (2002):
In this live-action feature, Scooby and the gang journey to Spooky Island, where a magical force is awakened that could spell doom for the human race.
"Scooby-Doo 2: Monsters Unleashed" (2004):
Fred, Daphne, Velma, Shaggy and Scooby must stop a menacing scoundrel who plans to turn their town of Coolsville into the complete opposite.
"Spooky Buddies" (2011):
At Halloween, the Buddies, Air Bud's adventure-seeking pups, investigate mysterious happenings at a mansion reportedly haunted by the Halloween Hound.
"Super Monsters Save Halloween" (2018):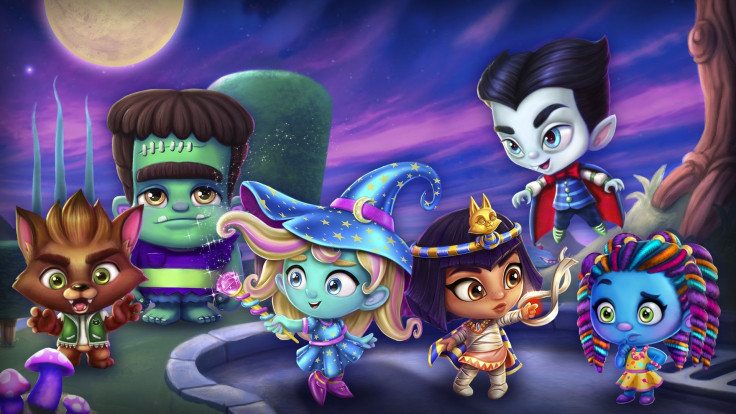 The Super Monsters use their powers to get their neighbors in the Halloween spirit, then help a nervous friend see there's nothing to be afraid of.
"Trick or Treaters" (2007):
Three robbers roving the countryside kidnap a young girl they believe they can hold for ransom, but she's actually an orphan.
FOR FREE to continue reading
✔️ Unlock the full content of International Business Times UK for free
offer available for a limited time only
✔️ Easily manage your Newsletters subscriptions and save your favourite articles
✔️ No payment method required
Already have an account?
Log in
© Copyright IBTimes 2023. All rights reserved.