Netflix Titles Leaving In April 2018: Best Movies Disappearing From Streaming Service
Sadly, this isn't an April Fools joke. Plenty of perfectly good movies will be leaving Netflix in April 2018, but you can watch the best of them before they disappear.
"Ace Ventura: Pet Detective" (leaving April 1) Jim Carrey launched his film career in this 1994 comedy where he plays the detective hired to find the missing mascot for the Miami Dolphins. The sequel, "Ace Ventura: When Nature Calls," will also leave Netflix in April.
"Apollo 13" (leaving April 1) This 1995 Academy Award-winning movie follows the 1970 lunar mission. After an explosion, the astronauts have to figure out how to get home with very little oxygen and electricity. Director Ron Howard lined up an all-star cast for this drama: Tom Hanks, Kevin Bacon, Bill Paxton, Ed Harris and more star.
"Batman" (leaving April 1) Michael Keaton plays the caped crusader in the 1989 action flick. He must protect Gotham from the villainous Joker (Jack Nicholson). The sequels, "Batman Returns" and "Batman Forever," are also leaving Netflix.
"Never Let Me Go" (leaving April 1) Carey Mulligan, Andrew Garfield and Keira Knightley star in this dystopian drama about three young adults at an English boarding school. They realize they've been created for a specific purpose, they must evaluate their priorities.
"The Pursuit of Happyness" (leaving April 1) The 2006 drama follows the true story of Chris Gardner as he endures homelessness with his young son for one year. Will Smith stars and his son, Jaden Smith, makes his big screen debut. Smith received best actor Oscar and Golden Globe nominations for his portrayal of the man who went from homeless to owner of a multimillion-dollar brokerage firm.
"Begin Again" (leaving April 27) Mark Ruffalo, Keira Knightley and Hailee Steinfeld star in this indie rom com. When Gretta's (Knightley) boyfriend Dave (Adam Levine) lands a record deal with a major label, he can't resist groupies. Meanwhile, Gretta starts performing on her own again when Dan (Mark Ruffalo), a former record executive, hears her. He helps her create her debut album while she helps him piece his life back together.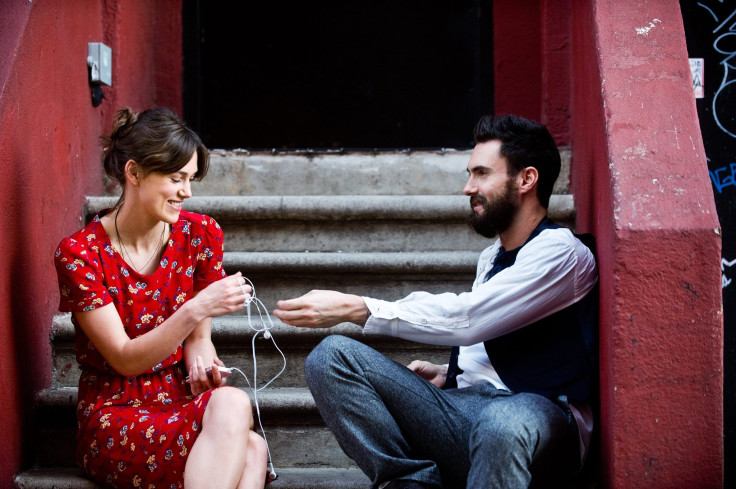 See all the titles leaving Netflix in April 2018 below:
Leaving April 1
"30 Days of Night"
"88 Minutes"
"Ace Ventura: Pet Detective"
"Ace Ventura: When Nature Calls"
"American Pie"
"American Pie 2"
"Apollo 13"
"Batman"
"Batman & Robin"
"Batman Forever"
"Batman Returns"
"Caddyshack"
"Charlie and the Chocolate Factory"
"Cool Runnings"
"Death Sentence"
"Dolphin Tale"
"Eagle vs. Shark"
"John Mulaney: New in Town"
"Never Let Me Go"
"Set Up"
"Small Soldiers"
"The Dukes of Hazzard"
"The Men Who Stare at Goats"
"The Pursuit of Happyness"
"The Shawshank Redemption"
"The Whole Nine Yards"
"Wild Wild West"
Leaving April 3
Leaving April 5
"The Hallow"
"The Nightingale"
Leaving April 12
"The Emperor's New Clothes"
Leaving April 15
"Happy Tree Friends"
"Leap Year"
Leaving April 16
Leaving April 17
Leaving April 20
"The Exorcism of Molly Hartley"
Leaving April 21
Leaving April 22
"Exit Through the Gift Shop"
Leaving April 26
Leaving April 27
© Copyright IBTimes 2023. All rights reserved.
FOLLOW MORE IBT NEWS ON THE BELOW CHANNELS