Netflix Wants To Tie In Prince Harry, Meghan Markle's Docuseries With 'The Crown,' Report Claims
KEY POINTS
Netflix is reportedly determined to release Prince Harry and Meghan Markle's docuseries by the end of the year
The streamer reportedly wants to tie it in with the upcoming season of "The Crown"
Netflix allegedly doesn't want to "get scooped" by Prince Harry's memoir, which is also due in the fall
Meghan Markle and Prince Harry's docuseries with Netflix may be released this year as a new report claimed that the streaming service is determined to air it around the same time as the upcoming season of "The Crown."
An unnamed source told the New York Post's Page Six that Netflix chiefs are keen to stream the show that the Duke and Duchess of Sussex have been working on for more than a year after signing a reported $20 million deal with the streamer back in 2021.
They reportedly hope to release the Sussexes' docuseries shortly after "The Crown" Season 5 airs in November.
"There is a lot to organize and a lot of things at play here," the insider claimed of Netflix's alleged plans to release the docuseries by the end of the year.
The source claimed that Netflix "wants to make sure they get in there and don't get scooped" by Prince Harry's memoir, which is also due in the fall.
Netflix and reps for the Sussexes have not issued a statement on the docuseries or its potential release date, according to Page Six.
Prince Harry and Markle are believed to want the series to launch next year. "The timing is still being discussed, things are up in the air," an anonymous producer told the same outlet in May.
In the fifth season of "The Crown," the role of Queen Elizabeth will be played by Imelda Staunton, while Elizabeth Debicki will star as Princess Diana. The series will reportedly include the moments surrounding the Princess of Wales' tragic death in a Paris car crash in August 1997.
Prince Harry's highly anticipated memoir is also set to be released in the fall. The book is expected to cover the royal's childhood and time in the military and is rumored to include stories that could be unwelcome in the royal family.
"[Netflix executives] knew the book was coming out, which is why they wanted the series this year," the source told Page Six. "They don't want to hold off any longer."
Meanwhile, the outlet previously reported that the Sussexes are working with Oscar-nominated director Liz Garbus for their docuseries.
Garbus and a small camera crew were seen in the background with Prince Harry and Markle in September last year during their trip to New York City, according to Page Six. The crew reportedly kept their equipment hidden to keep the project under wraps.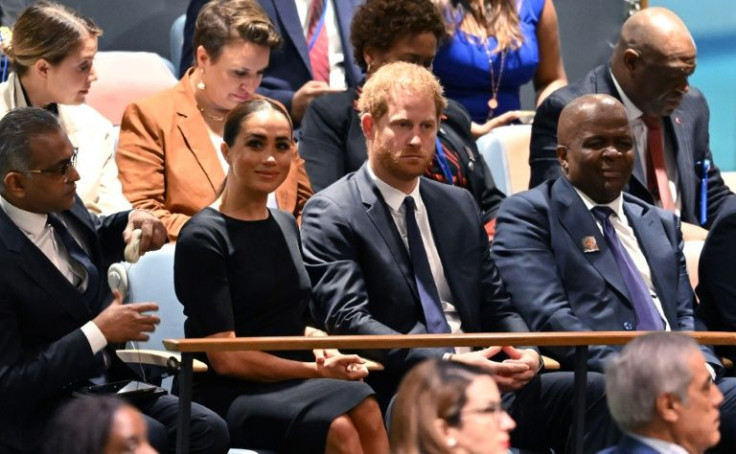 © Copyright IBTimes 2023. All rights reserved.