Meghan Markle Shows 'Dominance' Over Prince Harry With 'Double Claw' During NYC Outing, Expert Claims
KEY POINTS
Body language expert Jesus Enrique Rosas analyzed Meghan Markle and Prince Harry's interactions at the U.N. Assembly Monday
He claimed that Markle grabbed her husband's hand in a "controlling gesture" at one point
The expert also suggested that Markle has a hand gesture to signal to Prince Harry to stop whatever he's doing
Meghan Markle allegedly showed her dominance over Prince Harry during the couple's most recent outing, a body language expert has claimed.
The Duke and Duchess of Sussex, who relocated from the U.K. to Markle's home state of California in 2020, were in New York City Monday for the United Nations General Assembly, where Prince Harry gave a special address in honor of Nelson Mandela Day.
Jesus Enrique Rosas, known for his YouTube channel The Body Language Guy and books on body language, analyzed Markle and Prince Harry's expressions and gestures in a clip from the event, telling his 514,000 subscribers that the duchess appeared to "dominate" her husband using what he called the "double Markle claw."
Rosas -- whose analysis and works have been featured in Daily Express, Daily Mail, Mirror, The U.S. Sun and other outlets -- examined the body language of the couple while they were waiting for Prince Harry to be introduced for his speech, noting that the duke was initially smiling but stopped doing so after Markle touched his hand.
"They were sitting together, and Harry was quite relaxed. You can see his hands on his legs. Well, Meghan said, 'Maybe Harry's smiling too much, let's correct that," he claimed. "The moment she touches his hand, his expression ... changes completely. [Harry is] looking to the other way like he's hiding his expression from Meghan. You cannot unsee that."
"She grabs his hand in a controlling gesture. You can see that her hand is absolutely covering his. And he looks away and he lets go of it. He takes his hand away like, 'Don't grab my hand,'" the body language expert claimed of Prince Harry removing his hand from his wife's grip.
In the video, the duchess then gently took Prince Harry's hand and placed it on her knee before putting both of her hands on his arm.
Rosas speculated that Markle "wasn't happy" with her husband taking his hand away and thus did the "double Markle claw on his arm." The expert claimed that the move seemed to send the message, "You're mine. Give me your arm because you're mine."
Rosas claimed that it was "uncomfortable" to watch before alleging that Prince Harry showed signs of nervousness, such as grabbing the flap of his jacket, when Markle grabbed his arm.
The expert also analyzed Markle and Prince Harry's body language after he returned to his seat following his speech.
He pointed out that Prince Harry began talking to the man next to him shortly after sitting down again, "looking interested" and even touching the other person's arm in a "friendly gesture."
But as Prince Harry was shaking the man's hand, Markle touched her husband's back, which Rosas suggested could be a signal that he should stop whatever he was doing as the duke did just that. Rosas described Markle as "clingy" and "needy."
International Business Times could not independently verify his claims.
In addition to writing several books on body language, including "Body Language In 40 Days" and "The Remote CEO's 22 Laws of Persuasion," Rosas has over 102 million views on his YouTube channel, in which he posts videos analyzing the body language of celebrities and famous personalities. He is also followed by nearly 81,000 people on Twitter, including royal biographer Angela Levin and Dickie Arbiter, a former press spokesman for Queen Elizabeth II.
During his U.N. speech, Prince Harry gave a special shoutout to his wife Meghan and his late mother Princess Diana as he spoke about his love of Africa.
"For most of my life, it has been my lifeline, a place where I found peace and healing time and time again," Prince Harry said of Africa, according to People. "It's where I felt closest to my mother and sought solace after she died, and where I knew I had found a soulmate in my wife."
During the couple's tour to Africa in 2019, Prince Harry and Markle met with Graca Machel, Mandela's widow. They also visited the Nelson Mandela Centenary Exhibition in London back in July 2018.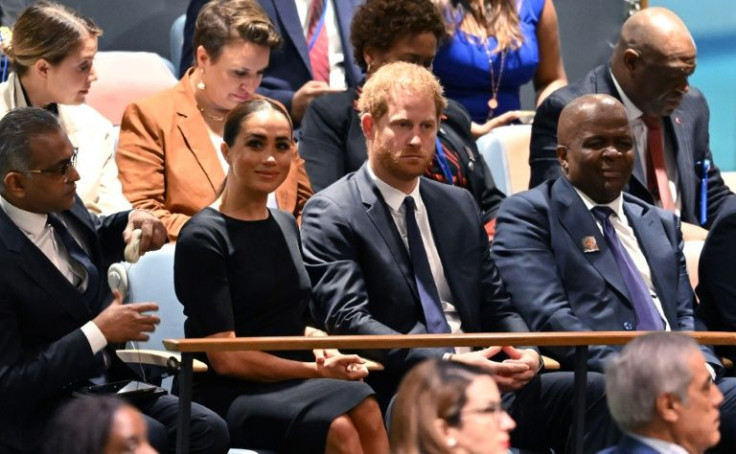 © Copyright IBTimes 2023. All rights reserved.