Netizens Praise Joe Biden For Receiving COVID-19 Vaccine On Live TV: 'Leading By Example'
KEY POINTS
Twitter praised President-elect Joe Biden for fulfilling the promise of getting his injection publicly and leading by example
Biden assured that "there's nothing to worry about"
The president-elect said he took the vaccine on live TV to demonstrate that people should be ready for it
President-elect Joe Biden received his first dose of the COVID-19 vaccine live on television Monday in a campaign to encourage Americans to take part in the vaccination program when the jabs become available.
The 78-year-old politician got the Pfizer vaccine at the Christiana Hospital in Newark, Delaware, to boost confidence among the people. His wife Dr. Jill received the vaccine earlier in the day, according to the presidential transition team.
Social media had a lot to say about Biden's leadership and praised the president-elect for instilling hope in the hearts of the people that everything will slowly return to normalcy when the vaccine comes out.
"Congratulations, President-elect Joe Biden. Leading by example," one Twitter user wrote.
"I am glad Joe Biden is getting the vaccine. I will feel even better in a few weeks when he gets the second dose," another wrote.
"Awesome. Long live my man, Joe. Need 8 years with you," a third user tweeted.
Meanwhile, one social media user said Biden getting the vaccine is a "calming, reassuring approval" for him to take part in the extensive vaccination program, which is expected to start as soon as the vaccine becomes available.
"This is leadership by example for citizens to energize and voluntarily come out for vaccination. We applaud your gesture, President-elect. It has far-reaching implications in every segment of our communities," another Twitter user added.
"So great to have integrity and leadership in our executive branch again," @Lon86690798 wrote.
Some users believe that Biden has already started taking charge as president despite being weeks away from taking the oath on Jan. 20.
"Joe Biden is functionally already the president of the United States. Just watched him get his vaccine, from an immigrant nurse who apparently is originally from Cameroon. And he followed that with a message to the American people about keeping up the fight against COVID," @JoyAnnReid tweeted.
After receiving the shot, Biden spoke about the reason he decided to get the injection publicly. He also said that the Trump administration "deserves some credit" for initiating the country's vaccination program.
"I'm doing this to demonstrate that people should be prepared when it's available to take the vaccine . There's nothing to worry about. I'm looking forward to the second shot. So is Jill. She had her shot earlier in the day," Biden told reporters after taking the vaccine.
The U.S. is the only country to have over 18 million infections and more than 300,000 deaths due to COVID-19. In the last 24 hours, the nation witnessed 200,109 cases and 1,841 deaths, taking its death tally to 326,772.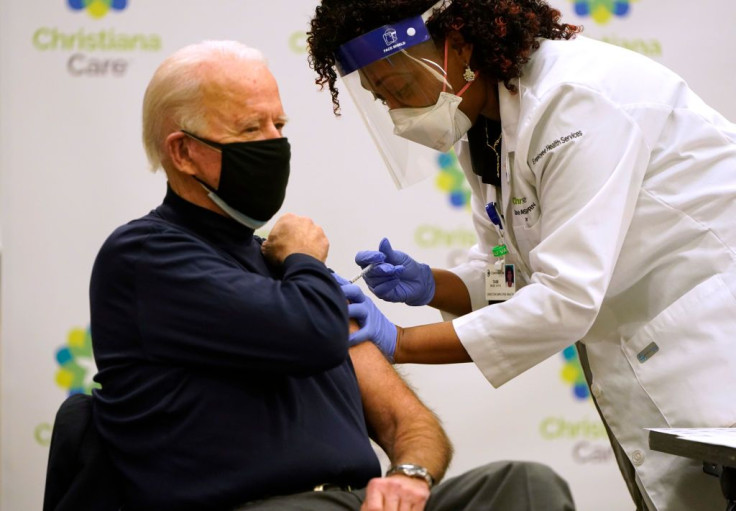 © Copyright IBTimes 2023. All rights reserved.