Nevada Primary 2020: Trump Wants 'New Mueller Report, Democrat Edition' After Sanders' Win
KEY POINTS
Trump and Sanders are said to be Russia's favorite candidates in November
U.S. intelligence says Russia clearly favors Trump's re-election
It might be spreading rumors of its support for Sanders to bolster Trump's re-election bid
President Donald Trump said former special counsel Robert Mueller should now investigate Vermont senator Bernie Sanders, the current frontrunner in the race to become the Democratic Party's presidential nominee.
Trump on Sunday tweeted to ask if the Democratic National Congress (DNC) plans to investigate Sanders, who decisively won the Nevada caucus Saturday with a margin more than twice that of second placer, former vice president Joe Biden. CNN called Nevada for Sanders with half the votes counted and with Sanders taking 46.6% of the vote to Biden's 19.2%.
"Are any Democrat operatives, the DNC, or Crooked Hillary Clinton, blaming Russia, Russia, Russia for the Bernie Sanders win in Nevada. If so I suggest calling Bob Mueller & the 13 Angry Democrats to do a new Mueller Report, Democrat Edition," tweeted Trump. "Bob will get to the bottom of it!"
Trump was obviously referring to stories by The Washington Post, The New York Times and CNN -- all of which he slams as the fake news media for publishing stories critical of him -- saying the United States Intelligence Community (USIC) revealed to House lawmakers on February 13 Russia was supporting Trump's re-election bid and might be supporting Sanders', but the type and scope of the Kremlin's interference remains unclear.
Trump made no mention of USIC saying Russia had come down squarely on his side again. USIC informed Sanders about this and the feisty senator responded by saying, "I don't care, frankly, who Putin wants to be president. My message to Putin is clear: stay out of American elections, and as president I will make sure that you do."
USIC also concluded that Russia and its president, Vladimir Putin, have "developed a preference" for Trump to win in November. They also emphasized Russia's main goal in its renewed election meddling is to sow discord among Democrats and Republicans. They said targeting Sanders is part of Russia's "dezinformatsiya," or disinformation campaign.USIC has prepared for Russia's interference in the 2020 election, especially after successfully supporting Trump in 2016. Trump has dismissed reports of Russia's backing him in November as "disinformation."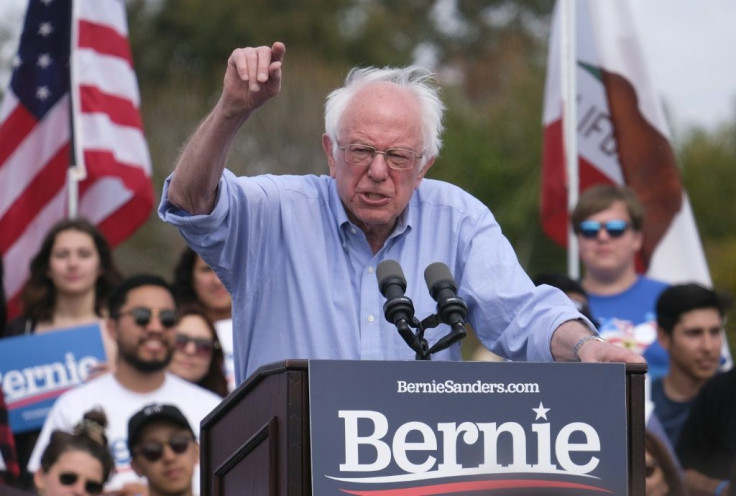 The widespread extent of Russia's pro-Trump efforts include hacking, weaponizing social media and attacks on election infrastructure, according to Shelby Pierson, USIC's top elections security official and chair of the Election Executive and Leadership Board.
In her briefing to the House lawmakers, Pierson said Russia does favor Trump. She also pointed out another of Russia's main aims is to raise questions about the integrity of the elections process by spreading fake news and sowing discord among the American political parties.
In the same briefing, Congressional lawmakers were also told Russia might be out to assist Sanders clinch the Democratic nomination. It's also unclear if Sanders is indeed the Kremlin's choice.
Last week, Trump fired acting director of national intelligence Joseph Maguire, who authorized the briefing to the House. Trump has always denied Russia and its inteference in 2016 helped his election to the presidency.
In 2017, USIC --which consists of the country's top 16 intelligence agencies -- concluded Russia implemented an influence campaign that helped Trump win the presidency. According to a declassified assessment released by USIC: "We assess Russian President Vladimir Putin ordered an influence campaign in 2016 aimed at the US presidential election. Russia's goals were to undermine public faith in the US democratic process, denigrate Secretary (Hillary) Clinton, and harm her electability and potential presidency. We further assess Putin and the Russian Government developed a clear preference for President-elect Trump."
This conclusion triggered an investigation of Trump and his campaign by former special counsel Robert Mueller.
© Copyright IBTimes 2023. All rights reserved.