New Coronavirus Mutation May Be More Infectious; 'Virus Replicates Better', Says Fauci
KEY POINTS
The first vaccine to be used en masse against COVID-19 will have to contend with D614G, the latest mutation of SARS-CoV-2
Studies reveal D614G as the new dominant starin of SARS-CoV-2, the virus that causes COVID-19
D614G is more infectious than the mutation it replaced, but isn't deadlier
It's now a frantic race to bring the first vaccine against COVID-19 online as quickly as possible before the natural mutations of SARS-CoV-2 (severe acute respiratory syndrome coronavirus 2), the virus that causes COVID-19, render this new vaccine less effective.
This upsetting possibility was again brought to light in a new study published Thursday in the peer-reviewed journal, Cell. The study reveals a SARS-CoV-2 mutation carrying a Spike protein amino acid, and called "D614G," has replaced D614 as the dominant pandemic form. The study emphasizes D614G is more infectious than D614 but not deadlier. It also suggests the variant might have a "fitness advantage," meaning the mutation has enabled it to better survive.
In infected individuals, D614G "is associated with lower RT-PCR (Reverse transcription-polymerase chain reaction) cycle thresholds, suggestive of higher upper respiratory tract viral loads, although not with increased disease severity," wrote the study.
The authors, who are members of the Sheffield COVID-19 Genomics Group, called for "continuing the surveillance of Spike mutations to aid in the development of immunological interventions." The study carries the title, "Tracking changes in SARS-CoV-2 Spike: evidence that D614G increases infectivity of the COVID-19 virus."
Dr. Anthony Fauci, Director of the National Institute of Allergy and Infectious Diseases (NIAID), on Thursday sounded the alarm about D614G. He said ongoing research now seeks to confirm the virus's possible mutation into D614G and its implications in light of the raging COVID-19 pandemic.
"The data is showing there's a single mutation that makes the virus be able to replicate better and maybe have high viral loads," said Dr. Fauci.
Dr. Fauci, however, said "there's a little dispute about it," referring to the mutation.
"We don't have a connection to whether an individual does worse with this or not," he said in an interview with Dr. Howard Bauchner of The Journal of the American Medical Association (JAMA). "It just seems that the virus replicates better and may be more transmissible."
A study published last month from Scripps Research in Florida said the mutation into Spike D614G "enhances viral transmission."
Also on Thursday, Dr. Soumya Swaminathan, Chief Scientist of the World Health Organization (WHO), said "natural mutations" of SARS-CoV-2 are to be expected. She pointed out there are certain "domains" of SARS-CoV-2 that are "more critical," such as the spike protein.
"If major mutations occurred in those domains, it might actually affect the development of vaccines," she pointed out.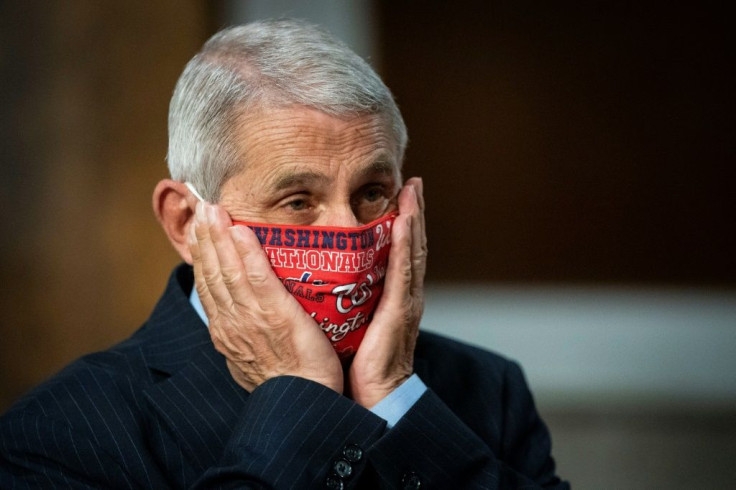 © Copyright IBTimes 2023. All rights reserved.
FOLLOW MORE IBT NEWS ON THE BELOW CHANNELS