New Delhi Gang-Rape Sentencing: Death For All 4 Convicted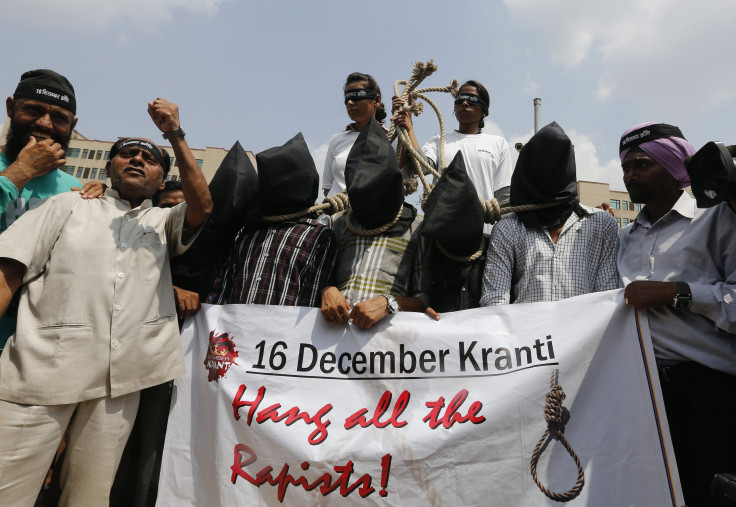 The four men convicted of brutally gang-raping a woman in India's capital city of New Delhi on Dec. 16, who later succumbed to her injuries, were sentenced to death for rape and murder on Friday, according to reports.
The four men -- Mukesh Singh, Pawan Gupta, Vinay Sharma and Akshay Thakur -- were brought to the Saket fast-track court in New Delhi at about 1:30 p.m. on Friday (4 a.m. EDT), and the judge, Yogesh Khanna, handed down the death penalty for all four men.
The gang-rape incident shook the country and triggered widespread protests, prompting the Indian parliament to pass stricter sexual violence legislation early this year. The court had termed the incident "rarest of the rare cases."
"I'm happy. We got justice. My daughter's wish has been fulfilled," the victim's mother said soon after the sentencing, according to The Wall Street Journal, and the victim's father called it a "historic decision."
"When people took to streets and stood by us, we became hopeful. Today's punishment will bring peace to our minds and to the whole country," he added.
The death penalty sentence now has to be confirmed by a higher court and the four convicted men have the option to appeal against the punishment in a higher court, the Journal reported.
On Wednesday, the prosecution had demanded a death sentence for the four saying it was a premeditated crime and they showed the girl no mercy even when she begged. Public prosecutor Dayan Krishnan, addressing the judge, said that "sentence which is appropriate is nothing short of death."
"There can be nothing more diabolical... There is no element of sympathy in the way in which the hapless woman was tortured," Krishnan was quoted as saying by Agence France Presse.
The 23-year-old victim succumbed to her injuries in a hospital in Singapore two weeks after the tragedy, and her family had sought death penalty for all the convicts.
"We have got financial assistance from the government, people have supported us. But a strong punishment will give justice to my daughter," the victim's mother told CNN-IBN in an interview, prior to the verdict.
Before the sentencing decision, there were widespread demands for the four men to be executed. According to BBC, dozens of protesters gathered outside the court, on Tuesday, when the four were convicted, chanting "Hang Them! Hang Them! Hang Them!"
© Copyright IBTimes 2022. All rights reserved.
FOLLOW MORE IBT NEWS ON THE BELOW CHANNELS