As New Delhi Stands By Russia In Crimea Conflict, Indian Wheat Exports Could Benefit From Ukraine Crisis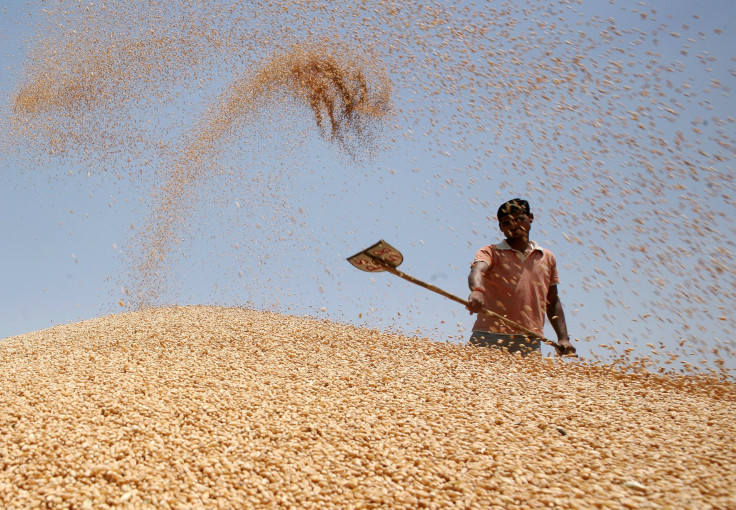 The crisis in Ukraine may yield at least one advantage for India: new markets and higher prices for its wheat harvest.
With Ukraine, one of the world's largest wheat producers, engulfed in a political, and now a potentially military conflict, grain prices have been climbing. The U.S. Grains Council said on Monday that wheat prices in Ukraine are increasing as farmers hoard the grain as a hedge against the country's depreciating currency and political risks. The Calcutta Telegraph newspaper reported that India's wheat exports have since edged up, with prices jumping to $275 per metric ton in the international markets.
Prior to the eruption of turmoil in Ukraine, India was unable to unload its currently huge excess of wheat, more than double its domestic requirement of 11.2 million metric tons even at lower prices. Commodity analysts now worry that Ukraine, which exports about 18 million metric tons of wheat per year, will suffer an ongoing production disruption. Citing analyst reports, the Telegraph noted that wheat is currently being shipped out from Odessa and other ports on the Black Sea, but given the Russian military invasion of Crimea, a peninsula that juts southward into the Black Sea, shipping companies worry the Ukrainian ports near Crimea will soon be blocked, thereby disrupting transportation from Ukraine's farming heartland.
India, the world's second-largest wheat producer behind China, is more than happy to supply whatever demand Ukraine cannot meet. Telegraph India noted that Glencore Xstrata PLC (LSE: GLEN), the Anglo-Swiss multinational commodity giant, has recently purchased 160,000 metric tons of wheat from the privately held Food Corporation of India. India expects to produce another bumper crop in wheat this year. "In all likelihood, the crop is going to be an all-time high so more exports are almost certain now," an Indian government source told Reuters. For the 2013-2014 harvest season, India is projected to produce a total of 100 million metric tons of wheat, up from about 95 million the prior year. However, only about 3 million metric tons have been sold to foreign markets thus far this year, and making things worse, prices had fallen due to a glut caused by over-production in both India and U.S.
Now, in light of the deepening crisis in Ukraine, Indian agricultural ministry officials expect to sell more wheat, especially to Bangladesh, South Korea, Ethiopia, Thailand and Indonesia, at prices as high as $300 per metric ton.
Ukraine is the ninth-largest producer of wheat (accounting for 3 percent of global production), and is the sixth-largest exporter (6 percent of global exports), according to Tom Pugh, a commodity economist at Capital Economics in London.
Jack Watts, a market specialist at the Agriculture and Horticulture Development Board (AHDB) in the U.K., noted that production is not a problem in the Ukraine for 2013-2014; rather its ability to move the grain to export markets is "creating nervousness."
"Certainly from the broader and fragile Ukrainian economy perspective, maintaining exports will be critical to any government," Watts wrote in a report. "Longer term, the market will want to assess the impact (if any) on the 2014 crop. The spring planting season is just starting with Crimea (the focus of the recent tensions) one of the first regions to start sowing."
In an interview, John Barone, a commodity analyst and president of Market Vision Inc., said that the Russian incursion into Crimea has grain traders worried that this may disrupt Ukrainian exports, especially from Crimean ports. "If that were to happen, Ukraine's customers -- primarily Egypt and Middle Eastern countries -- would have to go elsewhere (perhaps the U.S.) for some of their wheat. This has put a small 'premium' on U.S. wheat prices, as traders factor-in that 'risk.'" But Barone cautions that commodity markets often exhibit knee-jerk reactions to international incidents, and then settle down once the situation is better understood. "Right now, the risk of disruption is low and only 10 percent of Ukrainian wheat exports ship from Crimean ports," Barone added.
Indeed, given so many unknowns related to Russia's presence in Ukraine, it is impossible to predict how this crisis will impact the country's wheat sector, even in the short-term. Analysts are trying to maintain a cautiously optimistic stance.
Pugh indicated that "any disruption to exports from the region could cause prices to surge." But he also cautioned that since it is in no one's interests to disrupt trade in the grain, he expects the "risk premium currently in prices to fade over time." But he added in an interview that, aside from the Russian drama in Crimea, wheat prices have also risen due to "the ongoing harsh winter in the U.S. which is threatening the US winter wheat harvest and the drought in South America is also having an impact although this is a lesser concern for wheat."
Meanwhile, Indian government officials have expressed their concerns over the imbroglio in Ukraine, while defending Russia's intervention in Crimea, citing that Moscow holds "legitimate interests" in Ukraine, making it one of the few major countries on earth to appear to favor Russia in the conflict. Even Russian allies like China and South Africa have issued less-than-enthusiastic statements about Vladimir Putin's military incursion into Crimea. Shivshankar Menon, India's national security adviser, has called for dialogue to end the impasse, but added that he hoped the west takes Russia's interests into account. "We hope that whatever internal issues there are within Ukraine are settled peacefully, and the broader issues of reconciling various interests involved, and there are legitimate Russian and other interests involved…. We hope those are discussed, negotiated and that there is a satisfactory resolution to them," Menon said in a statement. "We are watching what is happening in Ukraine with some concern."
Ukrainian officials in Kiev – who have had good relations with India and even sent military equipment to New Delhi – reacted sharply to Menon's statements.
"We are not sure how Russia can be seen having legitimate interests in the territory of another country," said, Roman Pyrih, media secretary at the Ukrainian embassy in New Delhi. "In our view, and in the view of much of the international community, this is a direct act of aggression and we cannot accept any justification for it."
Pyrih added: "There are principles of international law, and Russia violated these in entering the territory of another nation. If there are any legitimate interests, those can be discussed diplomatically, not by sending in troops."
Reportedly, after Russians invaded Crimea, the Ukrainian ambassador to India, Oleksandr Shevchenko, met with foreign ministry officials in New Delhi seeking India's support for Kiev, but he left without receiving such assurances.
India and Russia have long enjoyed deep and friendly ties; Moscow is currently India's largest supplier of arms and defense equipment. The Russians also defended India when New Delhi tested nuclear weapons in 1974 and 1998, actions which earned sharp rebukes from across the world. A report in The Diplomat suggested that India actually has little at stake in Ukraine and that New Delhi officials feel that in the long term it has more to gain by supporting Russia when Moscow is becoming a pariah over its Crimean adventure.
© Copyright IBTimes 2022. All rights reserved.
FOLLOW MORE IBT NEWS ON THE BELOW CHANNELS