New Hampshire Passes Law Letting Parents Devise Alternative Curricula for 'Objectionable' Subjects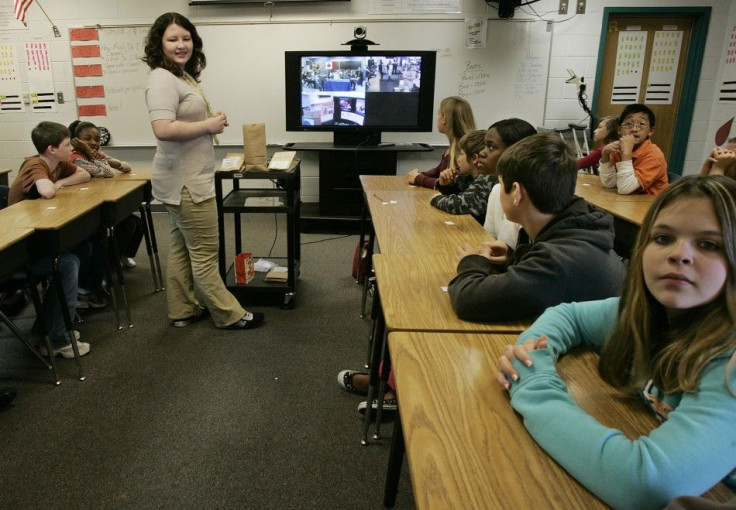 New Hampshire's Republican-dominated Legislature overrode Democratic Gov. John Lynch's veto Wednesday to enact a law letting parents request an alternative curriculum for any subject they object to, legislation that critics say could limit children's access to a comprehensive and quality education.
H.B. 542 initially passed by the state House and Senate last year, and was promptly vetoed by Lynch in July. In a statement explaining the decision, the governor wrote that the law -- which allows parents to pull their children out of objectionable courses if they can finance the cost of instilling an alternative curriculum allowing the child to meet state requirements for education in that particular subject -- does not clearly define what material can be considered objectionable, potentially giving individual parents the right to veto any lesson plan developed by a teacher.
Parents Can Object to Standard History Lessons
For example, under this bill, parents could object to a teacher's plan to: teach the history of France or the history of the civil or women's rights movements, Lynch said. The intrinsic value of education is exposing students to new ideas and critical thinking. This legislation encourages teachers to go the lowest common denominator in selecting material, in order to avoid 'objections' and the disruption it may cause their classrooms.
However, Matthew Chingos, an education fellow at the Brookings Institution, told the International Business Times the bill may not have the extreme effect feared by Lynch.
It all depends on how the law is interpreted. For instance, will there be a limit to what actually qualifies as something that is truly objectionable? Who will develop the new curriculum? Chingos asked.
Because lesson plans can already vary based on the school, or teacher, Chingos said the law will only be damaging if it is mainly used by parents who have squabbles with specific subject areas, such as sex education or evolution.
Although the text of the legislation states the policy will have no fiscal impact on state, county or local revenues or expenditures, critics insist it will still burden school districts by requiring them, potentially, to help develop and approve individual curricula for each student.
This bill will downshift an enormous cost burden on to cities and towns. It requires school districts to create individual curricula for each and every student and the costs of developing those plans will be passed on to local taxpayers, New Hampshire Democratic Party Chairman Ray Buckley said.
No Estimate of Cost of Possible Curriculum Changes
While the legislation's specification that parents finance a curriculum change seems to be a device to keep the cost from being transferred to taxpayers, as of now there is no indication of how much it would actually cost to fund an alternative lesson plan.
The New Hampshire Department of Education did not immediately return requests for comment.
The bill initially contained a provision that would have removed compulsory school attendance for children between the ages of 6 and 16, meaning children could legally be kept from school for any reason as long as they were educated by a parent at home. Although it was struck from the final version of the bill, sponsor Rep. J.R. Hoell told The Huffington Post he intends to reintroduce the issue this year.
H.B. 542 reportedly came to be after a New Hampshire family made national news by objecting to a the assignment of Barbara Ehrenreich's Nickel and Dimed: On (Not) Getting By in America -- derided as a left-wing propaganda book -- as a required reading in a high school personal finance course, The Union-Leader reports. In a July editorial, the famously conservative newspaper blasted the bill, writing that it would force schools to provide alternatives to any instruction a family opposed, and a family could oppose anything for any reason. That is neither workable, nor sensible.
In a letter to the Nashua Telegraph, Rep. June Frazer, a Democrat, wrote that H.B. 542 is not the only legislative attempt to alter public education in the state. Frazer, a member of the House Education Committee, said lawmakers will soon vote on a bill that would amend the state constitution to remove itself from funding public schools, while at the same time instituting funding for religious schools. Later this term, Frazer said, the Legislature will vote on a bill that would give tax credits to businesses that fund scholarships to private schools, which would essentially remove taxpayer money from public schools and transfer it to private institutions instead.
According to a November report from the Concord Monitor, there were a slew of bills proposed in the 2011 legislative session that were crafted with the intention of gutting public education. H.B. 429, which passed in the House before being rejected in the Senate, would have reduced public school attendance by lowering the age at which students can legally drop out of high school, while the failed H.B. 340 would have granted parents a reduction in their local property taxes if they pulled their children out of public schools.
--
Correction: A previous version of this article misspelled Matthew Chingos' last name as Chingas.
© Copyright IBTimes 2023. All rights reserved.