New iPad 3 Owners Complain of Yellow Tint in Retina Display: Is Apple Listening?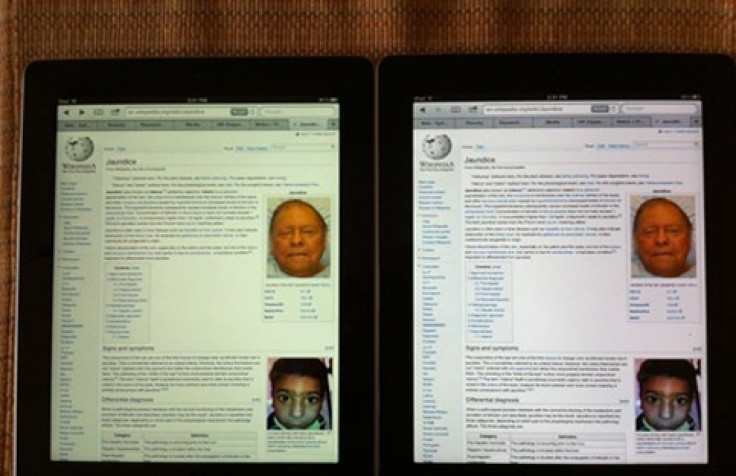 Apple's new iPad found more than 3 million owners within the first week of its release March 16. The tech giant's third-generation iPad probably is the hottest selling gadget of the moment, but it is being criticized for some shortcomings, and one of the complaints are related to the yellow tint found in the Retina display of the new tablet.
Apple Discussion forum has turned out to be an anti-iPad arena where third-generation iPad owners are punching new complaints every day. First, the iPad overheating issue, then weak Wi-Fi reception and now iPad's so-called revolutionary high resolution screen is under criticism.
The retina display with super high resolution (2048 X 1536 pixels) is the greatest and coolest feature of the new tablet that comes to mind. And why not? No other tablet or smart gadget in the world packs such a great resolution that can outperform even HDTVs (HDTVs have 1920 X 1080 pixel resolution). The new iPad has four times more number of pixels than its predecessor. But, also the same key feature can be a downfall for the newly released tablet.
Users are complaining about yellowish tint on the screen of the new iPad.
New iPad screen is very warm/yellow... making it appear washed out. From a distance, my iPad 2 screen looks nicer. Also have a whole bunch of visible dead pixels. Definitely a clunker, said a user.
For some, the screen shows yellow hue on a little part only, but in many cases, the yellow tints have spread across the whole screen.
I don't have a definite yellowish tint, but I do have a slightly dingy grayish tint that extends from the top (in portrait mode, home button at bottom) down about 2 inches and fades out completely at about three inches down. I suppose one could call it a very light dirty 'yellow'. The rest of the display is great, writes another user.
Designing the new iPad's Retina display was a very difficult task. After LG and Sharp failed to design it, Apple eventually turned towards its enemy (or friend?) - Samsung - and assigned it the task of manufacturing new iPad's Retina displays. Designing a high-end screen was a tough challenge even for a tech giant like Samsung.
It seems, the new iPad's display is not as amazing as promised by Apple. Every day, users are punching in complaints in Apple's forum. But Apple has not responded to the complaints. As usual the tech giant is keeping its lips tightly sealed, but it won't fix the problem. Is Apple listening?
(reported by Johnny Wills, edited by Surojit Chatterjee)
MUST READ - iPhone 5: The Best and Hottest Concept Designs So Far (PHOTOS)
MUST READ - iPhone 5 Release Date Rumors: Features Texas Instrument Chip, What Else?
MUST READ - Samsung Galaxy S3: Forget iPhone 5, HTC One X is the Real Threat to Samsung Super Phone
MUST READ - Nokia Lumia 900 or iPhone 4: Which is the Better $100 AT&T Phone?
MUST READ - Sony PS4: What is Orbis and Why is it Generating So Much Buzz?
© Copyright IBTimes 2023. All rights reserved.