New iPad 3 Overheating Problems Will Cool Down Sales?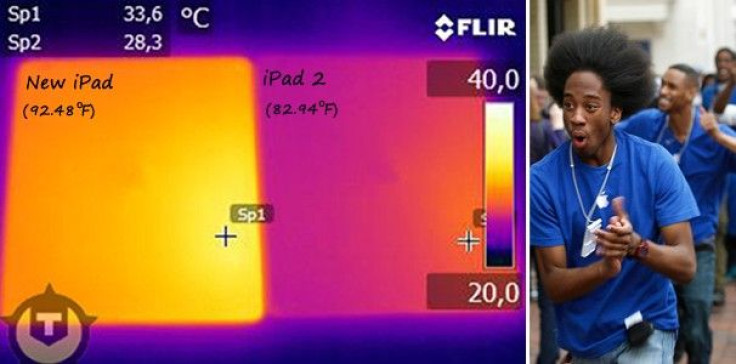 Overheating isn't new to the Apple iPad, previous versions always seem to have the problem but it wasn't much of a factor to consider much, well, until now. No doubt the new iPad is hot - it's so hot that the Apple sold 3 million of these little beauties during the debut weekend worldwide. How exciting. However, the new iPad is now heating up in more ways than one and Apple fans aren't too happy about it.
Yes, iPad does appear to be suffering from overheating problem. It seems that the problem could be because of the new iPad's A5X processor and the bigger battery. It also seems that sometimes the new iPad gets so hot that it shut itself down to cool off. This is definitely not good news for those who want to use their new Apple toy all day.
Furthermore, this could be more of a user problem than an Apple fault.
Some of the users who complained about this excessive overheating were using the device in direct sunlight. If you didn't know already, direct sunlight can help to cause overheating problems for your new iPad. So users who live in hot tropical locations should take this into consideration before bringing the device for entertainment while you get a tan.
Some members of the Apple forum had this to say:
"My iPad is a 64 with Wi-Fi and LTE - LTE not hooked up yet - got hot enough that I measured with infrared thermometer and it was 117 degrees after 10 minutes - my little boy says it's too hot to hold - (Great !) but seriously it's not comfortable and I will be returning to the store.
"Hello, I got The new iPad 32 GB Wi-Fi only. It gets warm but that's uncomfortable to hold and feels like you should put it down for a while. Also the battery takes ages to charge and is not as good as they promise."
"I got a 16 GB Wi-Fi only and it's getting really hot on the lower left opposite the speaker grill."
"It's the screen brightness that is causing the battery to get hot. Turn the brightness down and you'll find the back to return to room temperature, or at least slightly warm."
"My new iPad is also overheating, bottom left like everyone else. The screen is great, but the heat is near unbearable at times and makes my hands sweaty while holding it."
"My 64 GB Wi-Fi iPad3 gets fry an egg hot in the middle/ land lower left side after playing scramble for 10 minutes."
The problem seems to be more widespread than we anticipated. Hopefully Apple will figure out a way to fix this or it could come back to haunt the company down the line.
(reported by Vamien MacKalin, edited by Surojit Chatterjee)
MUST READ - Nokia Lumia 900 vs Samsung Galaxy Note: AT&T Superphone Shootout
MUST READ - New iPad 3 Facing Smart Cover Problem: Why?
MUST READ - iPhone 5: iOS 5.1 Code Strings Assure 4G LTE, What Other Features Can We Expect?
© Copyright IBTimes 2023. All rights reserved.