New Polls Place Biden, Sanders Neck And Neck, But It's Still Anybody's Game
KEY POINTS
Nationwide, Biden polls at 24 percent and Sanders at 22 percent
Warren and Buttigieg are polling at third and fourth, respectively
In key states, Sanders and Buttigieg are out front
Last Democratic candidate debate may prove crucial for clinching party nomination
After former Vice President Joe Biden threw his hat into the nomination ring earlier this year, he quickly jumped to the top of the polls of Democratic hopefuls. However, that lead seems to be gradually slipping and with no clear front runner right now, the nomination is still entirely up for grabs.
New national polling from NPR/PBS Newshour/Marist shows Biden in the lead with 24 percent but Sen. Bernie Sanders (I-Vt.) is closing the gap, claiming 22 points. Although seeing slowly eroding support, Sen. Elizabeth Warren (D-Mass.) is not far behind at 17 percent. At fourth with 13 percent is South Bend Mayor Pete Buttigieg.
The poll was conducted among both registered Democrats as well as Democrat-leaning independents, the latter being a highly coveted group that may prove key to victory for the eventual challenger to President Donald Trump.
Although Buttigieg is polling at fourth nationally, he has experienced one of the largest surges of any candidate in recent times. While national polling shows Biden out front, voters' candidate support in certain key states, including Iowa and New Hampshire, reveals Sanders and Buttigieg leading in each, respectively, with Warren and Biden trailing closely behind.
What is perhaps an especially finding from this new poll is that while most said they are happy with the options available within the heavily crowded Democratic field, three-quarters are open to shifting their support.
That discovery is crucial because it indicates that the last Democratic candidate debate to be held on Thursday could have a significant impact on who comes out on top as the party's presidential nominee. But as polling shows, the leading candidates have found their staying power among certain voter blocks – now it will be a matter of swaying each others' supporters as well as those who have hesitated to throw their full support behind one hopeful or another.
Earlier in the fall, Warren had made steady headway in the polls and appeared to be poised to take the top spot among the Democratic field. That has since changed against her favor, as support has slipped in the wake of the release of her campaign's policy road map. She faced heavy criticism regarding Medicare For All, particularly among far left-leaning voters.
Biden himself has felt strained in the polls as he struggles to grapple with questions surrounding his son, Hunter Biden, and his role as a board member of Ukrainian energy company Burisma Holdings.
As for Sanders – the main challenger to Hillary Clinton for Democratic nominee in 2016 – he has experienced largely consistent support from left-leaning and college voters, the latter a group generally credited as crucial to President Barack Obama's presidential victory in 2008.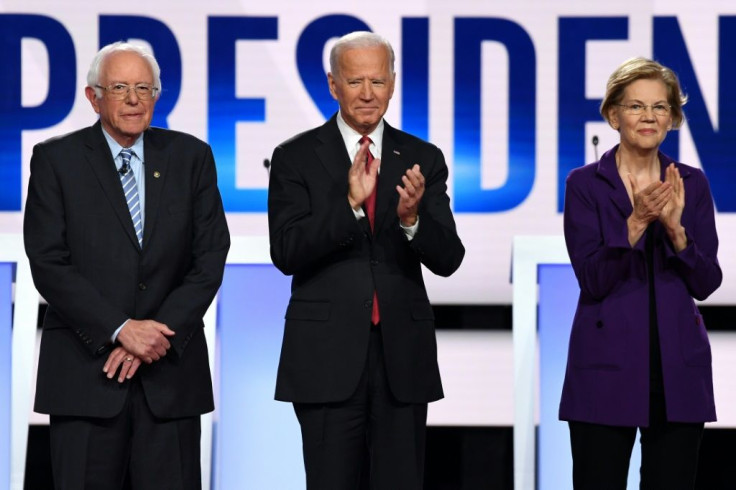 © Copyright IBTimes 2023. All rights reserved.