New Year's Eve 2015 Times Square Ball Drop: Best Viewing Spots, Access Points And Schedule Of NYE '15 Events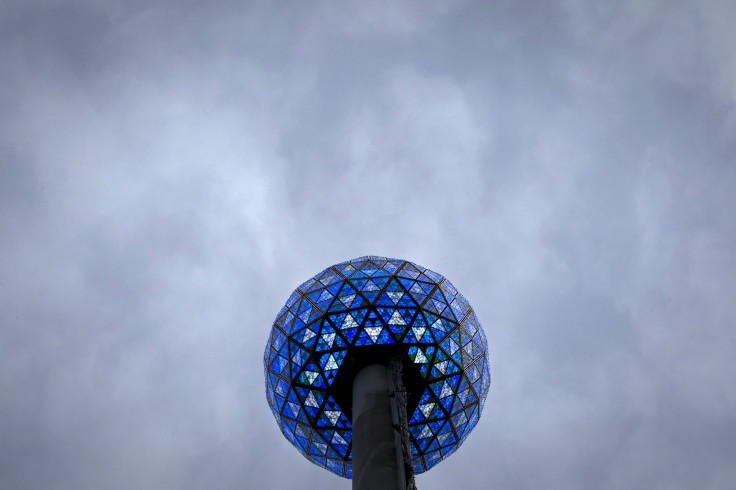 As much as ringing in the New Year in New York's Times Square can be exciting, it can also be chaotic. The first revelers will start arriving in Times Square at around 3 p.m., according to the official schedule of events. Police will close off the square's "bow tie," or 42nd through 47th streets between Broadway and Seventh Avenue, at that time.
The Times Square ball will be lit and raised at the top of One Times Square around 6 p.m. EST. Organizers of the event will flip a giant light switch that lights up the ball as it begins its ascent to the top of the building before its drop at midnight to ring in 2015. It's expected to take three minutes for the ball to reach the top. The event's opening ceremonies, featuring a Chinese cultural performance, are scheduled for 6:04 to 6:18. At the end of the performance, the Sino-American Friendship Association will hand out red scarves to Times Square revelers to keep them warm for the night. Attendees will also receive mittens and festive New Year's Eve items, including balloons.
At 6:58 p.m., hosts from Fox News Channel will lead a countdown of the 7 o'clock hour and read some "confetti wishes," or hopes that people wrote down on confetti for the new year. The wishes will be mixed with other confetti that will rain down on Times Square at midnight. From 7:58 to 8 p.m., CNN's Anderson Cooper will lead a countdown heading into the 8 o'clock hour, followed by a musical performance by O.A.R. And around 8:30 p.m., Idina Menzel will perform "Let It Go" from "Frozen."
At 8:58 p.m., singer and actress Kat Graham will begin the countdown to the 9 o'clock hour. Graham will also read more confetti wishes. The 10 o'clock hour will be ushered in by actors of the Broadway show "Aladdin," while more confetti wishes will be read. Florida Georgia Line will take the stage around 10:30 p.m.
Univision's Raul de Molina, best known for the Spanish-language entertainment news show "El Gordo y La Flaca" ("The Fat and the Thin") will lead the countdown of the 11 o'clock hour. He'll be followed by a performance by Alejandra Guzman. At 11:39 p.m. EST, Taylor Swift will take the stage to perform "Welcome to New York" and "Shake it Off," while O.A.R. performs again, including a cover of John Lennon's "Imagine."
At 11:59 pm., the 60-second countdown to 2015 begins, the lights on the ball are turned off and the number "2015" shines in bright lights above Times Square. Happy New Year!
The famous Times Square ball underwent a minor facelift for 2015. The ball will still consist of 2,688 Waterford Crystal triangles like the 2014 ball, but this year's version will feature a new design dubbed "Gift of Fortitude" on 288 of the triangles. The remaining triangles will have last year's "Gift of Imagination" design. The new look represents "the inner attributes of resolve, courage and spirit necessary to triumph over adversity," according to the Times Square website. The roughly 12,000-pound ball can create a palette of 16 million colors and has more than 32,000 LED lights. The Times Square Twitter account posted this video of the Times Square ball being tested:
If you plan to celebrate New Years' Eve 2015 at the Crossroads of the World, find out the best view of the ball as well as Times Square access points, security measures and more below.
Best place to view the ball: The best view of the ball is where Broadway and Seventh Avenue intersect. This is where the sound system for New Year's Eve 2015 is set up and is also close to the large video screen at One Times Square that shows the ball dropping. Other screens will also be set up throughout the area. A designated viewing area for the disabled has been set up at 44th Street and Broadway. But this area is one of the earliest to reach capacity early. Other ideal Times Square ball viewing spots include Broadway from 43rd to 50th streets and along Seventh Avenue north up until 59th Street.
Restaurants with views of the ball: Don't want to endure 20-degree temperatures? Luckily you can still get a great view of the ball without freezing. There are a number of nearby restaurants with sufficient viewing spots. They include:
· Renaissance New York
· DoubleTree Guest Suites
· Marriott Marquis
· Bubba Gump Shrimp Company
· Olive Garden
· R Lounge
· Novotel New York Times Square
When should I get there? Earlier is always better. On the flip side, you don't want to get to Times Square too early, like before the NYPD has set up barriers for the event. You'll be asked to move in that case. The official Times Square website warns that prime viewing spots may be filled by the early afternoon.
How should I get there? Public transportation is the best way to reach Times Square. The 1, 2, 3, 7, A, B, C, D, E, F, N, Q, R, W, V and S subway lines all run through Times Square. Check the status of subway service here.
What can I bring? Security will be out in full force around Times Square. Knapsacks and large bags won't be allowed, so leave them at home. Alcohol and champagne is also prohibited. But be sure to bring plenty of water to hydrate while braving the cold temperatures.
Entering Times Square: You can only enter Times Square via Sixth or Eighth avenues on New Year's Eve. Here are the following Times Square access points, according to the official Times Square website:
South of 41st Street
37th Street & Seventh Avenue
37th Street & Broadway
38th Street & Eighth Avenue
38th Street & Sixth Avenue
North of 43rd Street
46th from Eighth & Sixth avenues (press access)
Emergency Vehicle Route (48th Street, Fifth-Ninth avenues)
49th Street from Eighth & Sixth avenues
52nd Street from Eighth & Sixth avenues
54th Street from Sixth Avenue
55th Street from Eighth Avenue
57th Street from Seventh Avenue
57th Street from Broadway
58th from Eighth & Sixth avenues
59th Street from Eighth & Sixth avenue
Pedestrian/Subway Chutes:
39th Street at Broadway to Sixth Avenue
41st Street and Seventh Avenue (directed westbound to Eighth Avenue)
49th Street and Seventh Avenue (directed eastbound to Sixth Avenue)
50th Street and Broadway (directed westbound to Eighth Avenue)
53rd Street and Broadway (directed westbound to Eighth Avenue)
55th Street and Seventh Avenue (directed eastbound to Seventh Avenue)
© Copyright IBTimes 2023. All rights reserved.
FOLLOW MORE IBT NEWS ON THE BELOW CHANNELS