New York City Marathon 2017: Route Map, Start Time, Road Closures And How To Find Results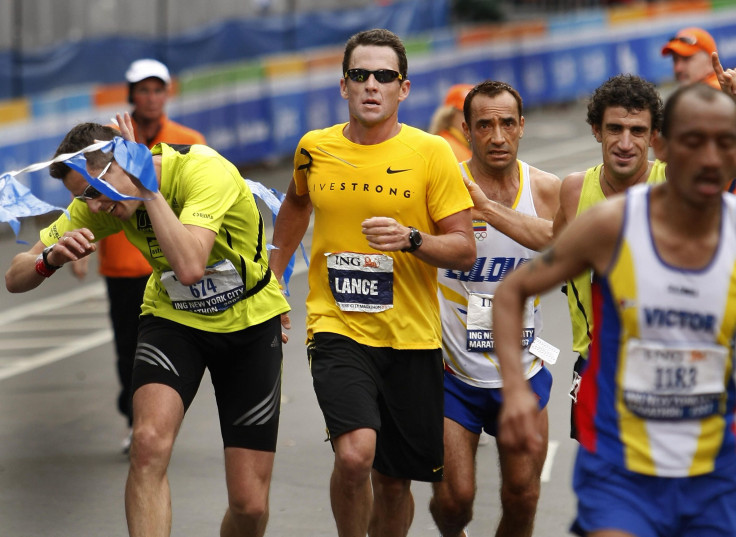 The New York City marathon is scheduled to kickoff on Sunday. Residents and visitors alike are gearing up to participate in the main event, which is set to have more than 50,000 runners and 2.5 million watchers in attendance. First launching in 1970 at Central Park, the 47th annual event is a highly anticipated affair.
The marathon is scheduled to begin at 8:30 a.m. EST with wheelchair contestants, which will be followed by handcyclists at 8:52 a.m. Professional female runners will start their race at 9:20 a.m., with professional male racers to run at 9:50 a.m. The remaining participants run will commence after the professional men at 9:50 a.m., 10:15 a.m., 10:40 a.m. and 11 a.m.
Participants and interested viewers should prepare to arrive early, as there is a full lineup of activities scheduled ahead of Sunday's race. MTA has published a map to provide guidance to runners and watchers as they maneuver around the city by bus or train. Public transportation has been recommended as the best option for getting to pre-race events, the starting point and official viewing locations.
The race's presence in New York City will result in city-wide road closures between 9:00 a.m. to 6:00 p.m. EST.
Manhattan: Queensboro Bridge (Vehicle Entrance Ramp Eastbound), East 59th Street between Queensboro Bridge and 1st Avenue, 1st Avenue between East 59th Street and Willis Avenue Bridge, 60th Street between 1st Avenue and 2nd Avenue, Madison Avenue Bridge, 5th Avenue between 138th Street and 124th Street, 124th Street between Madison Avenue and Mount Morris Park West, Mount Morris Park West between 124th Street between 120th Street, 120th Street between Mount Morris Park West and 5th Avenue, 5th Avenue between 120th Street and 90th Street, 90th Street between 5th Avenue and East Drive (Central Park Southbound), East Drive between 90th Street and Grand Army Plaza, Grand Army Plaza between East Drive and Central Park South, 59th Street between 5th Avenue and Columbus Circle/8th Avenue/Central Park West, Central Park Driveway/8th Avenue Approach to West Drive, West Drive between 8th Avenue Approach and 96th Street Approach to West Drive, 96th Street Approach to West Drive and 67th Street Approach to West Drive.
Brooklyn: Dahlgren Place between Verrazano Bridge and 92nd Street (Northbound), 92nd Street between Dahlgren Place and 4th Avenue, 4th Avenue between 92nd Street and Flatbush Avenue, Flatbush Avenue between 4th Avenue and Lafayette Avenue, Lafayette Avenue between Flatbush Avenue and Bedford Avenue, Brooklyn Queens Expressway (Southbound) between Verrazano Bridge and 79th Street, 7th Avenue between 79th Street and 75th Street/Bay Ridge Parkway, 7th Avenue between 74th Street and 75th Street/Bay Ridge Parkway, 74th Street between 6th Avenue and 7th Avenue, 6th Avenue between 74th and 75th Street/Bay Ridge Parkway, Bay Ridge Parkway between 7th Avenue and 4th Avenue, Fort Hamilton Parkway between 92nd Street and 94th Street, 94th Street between Fort Hamilton Parkway and 4th Avenue, Bedford Avenue between Lafayette Avenue and Nassau Avenue, Nassau Avenue between Bedford Avenue/Lorimer Street and Manhattan Avenue, Manhattan Avenue between Nassau Avenue and Greenpoint Avenue, Greenpoint Avenue between Manhattan Avenue and McGuiness Boulevard, McGuiness Boulevard between Greenpoint Avenue and 48th Avenue (Southbound) and Pulaski Bridge (Southbound).
Queens: Pulaski Bridge (Southbound), 48th Avenue between 11th Street and Vernon Boulevard, Vernon Boulevard between 48th Avenue and 10th Street, 10th Street between Vernon Boulevard and 44th Drive, 44th Drive between 10th Street and Hunter Street, Hunter Street between 44th Drive and Crescent Street, Crescent Street between Hunter Street and Queens Plaza South, Queens Plaza South between Crescent Street and 23rd Street, Queens Plaza North between Crescent Street and 23rd Street, 23rd Street between Queens Plaza South and Queens Plaza North and Queensboro Bridge (Eastbound) 2.
Staten Island: Richmond Terrace between Jersey Street and Bay Street, Jersey Street between Richmond Terrace and Victory Boulevard, Victory Boulevard between Jersey Street and Bay Street, Bay Street between Richmond Terrace and School Road, Fingerboard Road between Bay Street and Tompkins Avenue, Tompkins Avenue between Fingerboard Road and School Road, School Road between Bay Street and Staten Island Expressway, Lily Pond Avenue between Staten Island Expressway and McClean Avenue and McClean Avenue between Lily Pond Avenue and New York Avenue.
Bronx: Willis Avenue Bridge/Willis Avenue, East 135th Street between Willis Avenue and Alexander Avenue, Alexander Avenue between East 135th Street and East 138th Street, East 138th Street between Alexander Avenue and Morris Avenue, Morris Avenue between East 138th Street and East 140th Street, East 140th Street between Morris Avenue and Rider Avenue, Rider Avenue between East 140th Street and East 138th Street, East 138th Street between Rider Avenue and Madison Avenue Bridge.
Sunday's race will be broadcast on ABC and ESPN. It will also be viewable by live stream through ESPN. Official marathon viewing spots are located at Manhattan-Mile 25, Manhattan-Miles 23-24, Manhattan-Miles 16-18, Brooklyn-Mile 12, Brooklyn-Mile 11.5, Brooklyn-Mile 8, Brooklyn-Mile 5, Queens-Mile 15 and Bronx-Mile 21.
In the wake of Tuesday's terror attack in Lower Manhattan, extra security measures will be taken citywide to ensure the safety of participants and viewers. This year's race will have the most security on-site in the event's history. There will be a large crop of uniformed officers, but NYPD's Chief of Department Carlos Gomez explained that "there will also be officers in civilian attire that you won't see — they'll be mixing in with the crowds to detect any suspicious activity."
"The safety and security of runners, volunteers, spectators and staff is New York Road Runners' highest priority," the marathon's website reads. "At the TCS New York City Marathon, we are fortunate to work in close collaboration with the NYPD and our federal, state, and city agency partners to ensure the safety of all of our events."
Suggestions for additional safety measures have been provided to runners, including familiarizing themselves with the race route and surroundings.
"Runners should also be aware of their surroundings and if they see an unattended object or people that may look out of place to call it to the attention of the nearest race official or law enforcement officer," the marathon's organizers added.
Results for this year's race can be found on the marathon's website Sunday in real time.
FOR FREE to continue reading
✔️ Unlock the full content of International Business Times UK for free
offer available for a limited time only
✔️ Easily manage your Newsletters subscriptions and save your favourite articles
✔️ No payment method required
Already have an account?
Log in
© Copyright IBTimes 2023. All rights reserved.