New York Comic Con Fans Latest Victims Of Scalpers: 4 Ways To Stop 'Ticket Bots'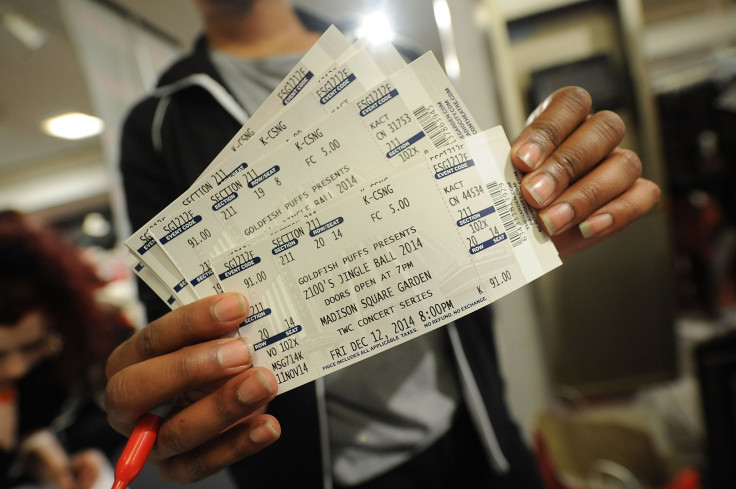 New York Comic Con fans became the latest victims of ticket scalpers Wednesday.
Thousands had preregistered with Comic Con's fan verification program, designed to box scalpers out of the October event. But when noon struck, many cosplay fans found themselves waiting in the online queue for over an hour as resale tickets surfaced on StubHub for twice the face value.
Like a predictable comic book villain, "ticket bots," animated software designed to jump to the front of online queues and buy hundreds of tickets, had struck again.
With entertainment consumers across the nation increasingly complaining about brokers buying up tickets to popular events and reselling them at marked-up prices on sites like StubHub, the New York state Assembly passed legislation June 17 to criminalize the use of ticket bots. If the bill is signed into law by Gov. Andrew Cuomo, the practice could soon be punishable by harsh fines or even time in prison.
Ticket bot use has been subject to civil penalties since 2010, but the New York attorney general's office said this week the penalties would make combating the practice easier. To date, ticket brokers in New York have paid over $2.7 million in penalties as a result of a multiyear investigation into ticket bots. Yet as anyone who has tried to buy tickets to recent New York City shows at Madison Square Garden or Barclays Center can attest, the problem persists. In one instance, the New York attorney general's office reported that a broker bought more than 500 tickets to a 2013 Beyoncé concert in less than three minutes and then sold them at marked-up prices.
"It's unfair," said Linda Sherry of Consumer Action, a Washington, D.C.-based consumer advocacy group. "People plan their lives and go about their business and get online at this exact time only to find that these bots are just getting in line in front of them."
Here are four reasons making ticket bots illegal might not be enough to stop scalpers in New York and other states:
1. Too much money is at stake.
Demand for tickets far exceeds supply, meaning there is a fortune to be made in buying and selling tickets in secondary markets. The New York attorney general's office estimates that ticket brokers have resold hundreds of thousands of tickets bought with illegal ticket bots in recent years. While the introduction of minor prison sentences might somewhat disincentivize the use of ticket bots in the long term, with that much money on the table, it will probably not put a stop to it anytime soon.
Ticket resale platforms, like StubHub, could help make it harder for brokers using ticket bots to resell tickets. In a report released earlier this year, the New York attorney general's office recommended that resale platforms require brokers to provide their New York ticket broker's license numbers as a condition of using the platform. This could help deter scalpers and make violators easier to track.
2. Monopolies make it easy.
One of the reasons scalpers can so easily game the system with ticket bots and other cheats is that the process of buying tickets to most major events in the U.S. is funneled through borderline monopolistic companies like Live Nation, which also owns Ticketmaster. Scalpers can use the same software to buy tickets to events all over the country because they know exactly where tickets will be on sale and how the sale will work.
Diffusing ticket purchases through venues' local box offices could make it tougher for large ticket brokers to take advantage, Sherry of Consumer Action said.
3. No transparency.
When brokers resell a ticket, they are currently not required by resale platforms to say what they initially paid for it. This leaves consumers at a disadvantage. For a sold-out event, they may not be able to gauge if they are paying a fair price on resale tickets.
Both Consumer Action and the New York attorney general's office recommend requiring resale platforms to disclose the value the broker originally paid for any tickets so consumers can see for themselves how much a ticket has been marked up. This would in theory empower consumers to reject scalpers' business. The attorney general's office has also called on the state Assembly to set a cap on how much resellers can mark up a given ticket.
4. Credit card entry is still banned.
New York is currently the only state that prevents the use of "paperless ticketing," a system by which ticket buyers gain access to an event by swiping the credit card with which they purchased tickets at the door. Since reselling credit cards is not an option, the method is extremely effective in preventing scalpers from snatching up tickets.
However, consumer advocates have argued that credit card entry discriminates against fans who do not have a credit card and unfairly prevents individual consumers from selling or a giving away their tickets if they are sick or if their plans change. As a result, New York does not allow unrestricted paperless ticketing and venues in other states have been reluctant to adopt the practice. The New York attorney general's office has called on New York to lift the ban.
© Copyright IBTimes 2023. All rights reserved.